This Holiday Season, Investing in Effective Employee Training for Retail Employees is More Critical Than Ever
Despite various issues such as labor shortages, supply chain disruptions and inflation, for retailers, this holiday season is looking bright. According to The National Retail Federation, sales are projected to rise between 8.5% and 10.5% during November and December for a total between $843.4 billion and $859 billion, which would mark a new all-time high. Additionally, Deloitte's annual holiday forecast states that retail sales for this period are likely to increase between 7% and 9% in 2021. The holiday hiring rush is also beginning, as the Federation also expects retailers to hire more than 500,000 workers, with the majority of the roles part-time positions. Yet at the same time, many retail employees, feeling the impacts of the pandemic and buoyed by a strengthening job market, have left their jobs in recent months.
What is clear from such statistics is the need to significantly speed up employee onboarding, boost employee engagement and retention, and develop streamlined and effective employee training. To supercharge sales teams at scale – making them empowered, engaged and ready to do their best work. Below are some tips from the Rallyware team on how to successfully accomplish this.
Develop More Robust Onboarding and Effective Employee Training Programs
In response to the mass exodus of retail employees leaving their jobs, companies such as Target and Under Armour increased starting minimum wages to $15 an hour, while Amazon began to offer sign-on bonuses of as much as $1,000 to new employees.

However, there is a need to first address the underlying issues and reimagine the complete employee experience, from onboarding and effective employee training programs, through to activities that make up the day-to-day. It is critical to provide support and relevant training to all retail employees to quickly get them up to speed, making them feel confident and engaged from day one on the job.

Traditional training methods do not suffice in this day and age. Today, training programs need to have greater flexibility and constantly evolve over time, accounting for changes both in terms of employee expectations and the new realities of the world. For instance, the COVID-19 pandemic has brought on the need for additional training in temperature screening as well as in-store procedures surrounding enhanced cleaning and sanitizing.
While product knowledge and savvy sales skills are all key skillsets of employees working in retail, what about other key abilities such as soft skills and interacting with customers? Skills in social selling and social media marketing? Strategic decision-making? For instance, efforts to help retail employees better comprehend the customer journey can involve training in emotional intelligence (EI), teaching members of the workforce how to acknowledge, differentiate and accept the emotions of customers.
A more robust, complex and effective employee training program requires a more robust training tool, and a Performance Enablement Platform assists by delivering the right personalized learning and business activities to the right person, at the right time. This is accomplished with the help of AI, by first collecting information about all individual employees, these insights are then used to deliver personalized experiences and opportunities for employee growth, based on the analyzed trends and preferences. Because all employees are unique in their own way, they will likely have broader goals and aspirations beyond selling merchandise, such as connecting with peers and sharing their knowledge with others.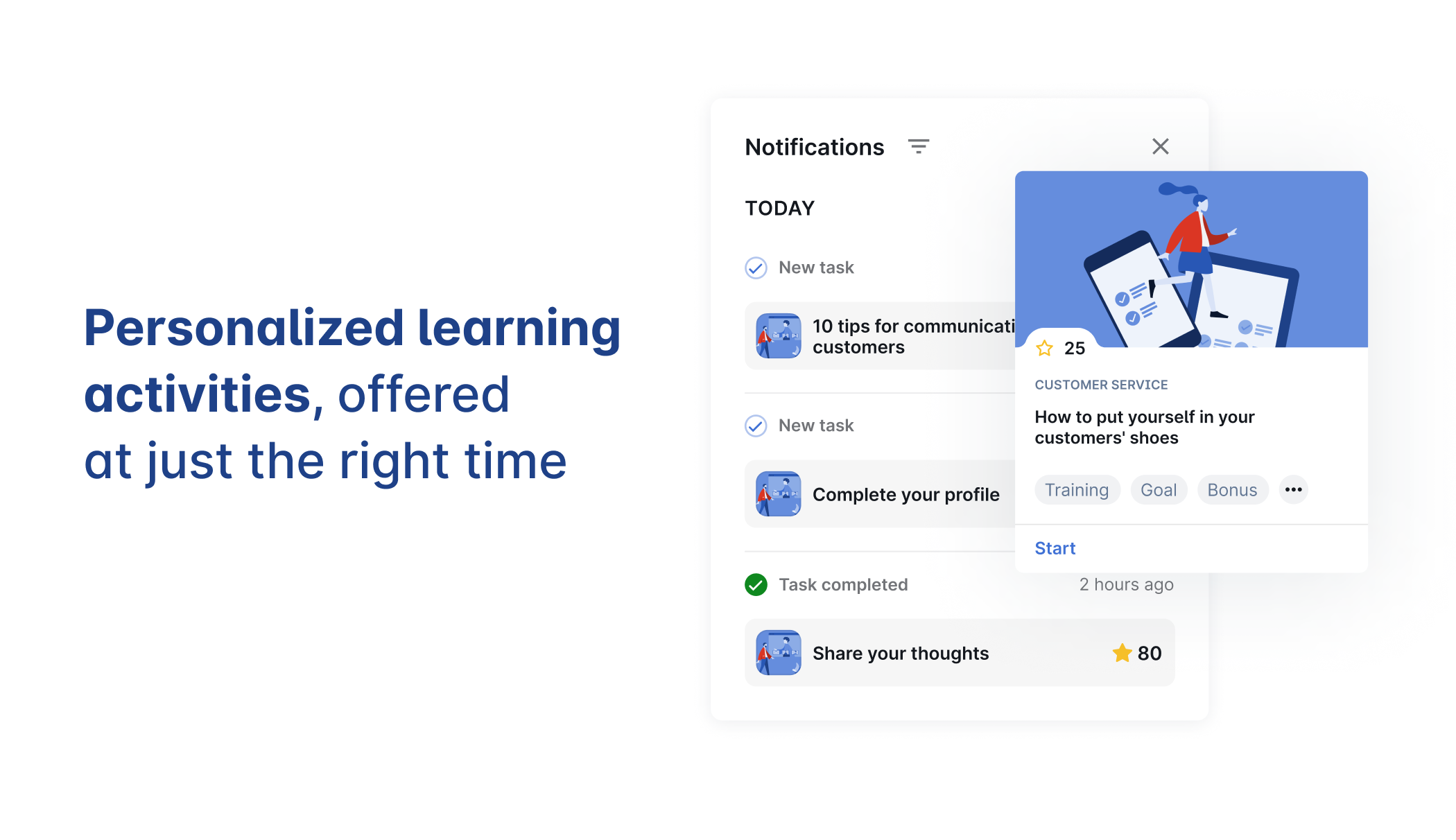 For example, Martine is beginning her new role behind the counter at a gourmet food shop. She is an avid cook, and enjoys speaking with like-minded foodies, both her customers and her more seasoned colleagues. She also aspires to open her own catering business. Based on Martine's goals and interests, her training will revolve around concepts including: in-depth knowledge about the store's product ordering strategy, best customer service practices and local marketing tactics.
To Boost Employee Engagement, Create An Experience that Empowers and Delights
How can retail employees feel a strong sense of empowerment? One emerging trend in the retail space is the democratization of decision-making – shifting the power away from the corporate head office, and to employees working in the stores. For instance, staff at UK book retailer Waterstones are given the freedom to order the bulk of the store's stock, based on their knowledge of their customer base, as well as determine what discounts to offer and which type of events to hold.
UK supermarket Morrisons created new roles that empower frontline employees – roles specifically aimed at better serving the needs of customers. For example, 'availability champions' ensure that shelves are well-stocked, while 'community champions' strive to raise awareness of local charities and causes. In a move to improve customer service, the company also cut a large number of management roles, focusing instead on increasing the number of positions available on the floor, including bakers, fishmongers and butchers. This would also enable department managers to "concentrate on helping frontline colleagues to do their job and run their store."
Equip your employees with the right tools to do the job – tools that are intuitive and easy to use, digital tools and solutions to coincide with a digital world. We at Rallyware are committed to taking a mobile-first approach to cater to evolving consumer preferences (recent research revealed that, for many users, mobile is the medium of choice). This should be a critical component of the strategies of businesses today – to make content easily accessible for all, and deliver an exceptional experience to digitally savvy employees.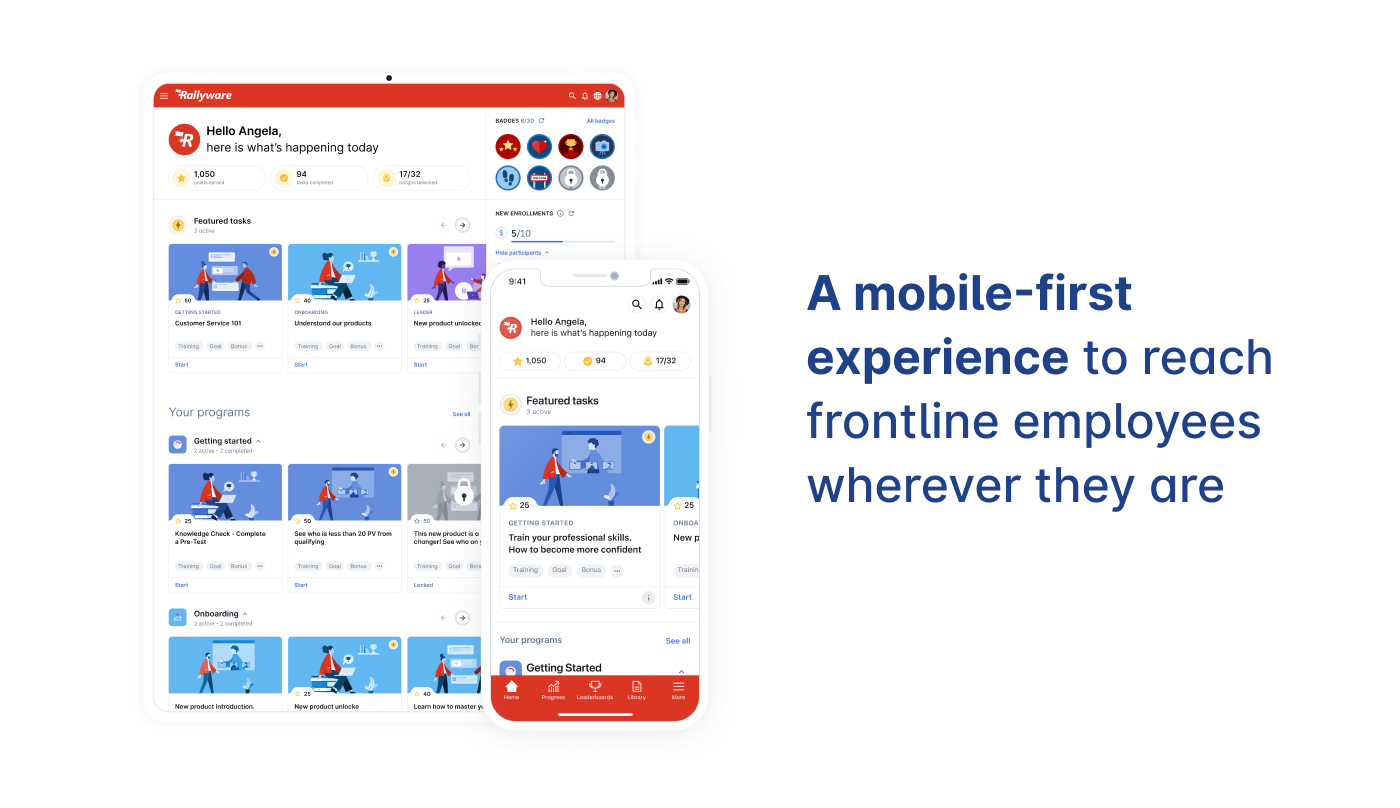 Today, adoption of high-tech solutions are becoming a necessity. Florida-based CITY Furniture was recently looking for a more efficient way of communicating with sales associates spread out over a large showroom space. They came up with a streamlined solution – utilizing a combination of iPads, an instant voice messaging app and wireless push-to-talk buttons – allowing employees to instantly connect with their team members and other stores to inquire about product availability and other questions. As a result of this integration, the retailer has experienced higher employee engagement and lower turnover. The solution has also helped to incentivize performance and train new store associates.
Such digital tools also take some of the burden off of sales associates, leaving them to interact and engage with customers.
Reward Everyday Achievements with Incentives and Recognition
Why not deliver personalized rewards and recognition to employees for the successful tasks that they complete every day? Focus on incentivizing the right activities for each individual in their contributions to a company's growth and overall business KPIs. For instance, employees of large retailer Intertop were rewarded for higher performance with internal currency points ('Intercoins'), which could then be used as additional discounts for purchasing merchandise. Such an initiative resulted in evident results and heightened sales productivity – with a 19% increase in in-store sales and a 16% increase in online sales.

This holiday season and into 2022, reward employees not just with gifts and bonuses, but with memorable experiences that matter – the chance to make an impact on the sales floor. Well-trained and well-treated employees create lasting long-term value for your customers and for your business, an enhanced overall employee experience, and growth to a business' KPIs.

Request your demo of Rallyware's Performance Enablement Platform to see how it can supercharge your frontline employee training, for +43% higher retention and +47% improved workforce engagement!
News and Insights on Workforce Training & Engagement
We're among top-notch eLearning and business engagement platforms recognized for effective training and talent development, helping to empower distributed workforces
Subscribe