One Essential Key For Franchise Business Growth
We live in a world of rapid changes. To keep up with these changes, it is important for everyone to refresh their knowledge and skills on a regular basis. Thus, training is a must for anyone who doesn't want to be out of the picture.
Training in any kind of business means growth. Why? Well, let's consider this. Every company has competitors. How can your business survive and grow? How can you find, retain and increase your customer base? The answer is simple: by training your employees. Your core investment should be made in your people. Well-trained and knowledgeable staff will increase their productivity and their training will also lead to quality improvements, job satisfaction, engagement, retention, and an overall increase in your business.
Research carried out at the Middlesex University Institute for Work Based Learning has shown that 74% of staff think they do not receive enough job training. Consequently, they cannot be as effective and as productive as they should be.
According to go2HR, 40% of the employees who don't receive thorough training leave their job within the first year. The main reason for leaving is that they are not able to develop their skills, so they move to other companies in pursuit of better career development opportunities. In addition, figures show that staff turnover costs $2,500 per employee on average.
A survey conducted by h2h revealed that 42% of managers believe that they aren't fully prepared to fulfill their first management position. Also, 21% of managers claim that their team lacks the skills needed to complete tasks properly. At the same time, Skillsoft research has discovered that 68% of employees say training shouldn't be based on a one-off basis, meaning that it doesn't have to end after onboarding stage.
Why just-in-time training is crucial for franchise businesses
Employee training is directly related to the success of a business. For example, Motorola has stated that every $1 spent on staff training has led to a 30% increase in productivity. This telecommunication giant has reduced its costs by $3 billion and increased its profits by 47% due to its well-developed training program.
The above-mentioned figures prove that employee training is one of the most important strategies that should be used by businesses. But when it comes to a franchise business, training becomes even more crucial. When an individual decides to purchase a franchise, the decision is often based on a desire to buy a proven, successful business formula.
Do you know that approximately 95% of the material franchisees learn is forgotten in about 72 hours? This could be devastating to the franchisee and have a negative effect on the parent company. In order to avoid possible and unnecessary mistakes, a wide range of factors should be addressed in order to create a good training program:
How much time should the training program take?

Where and through what means will the training be delivered?

What skills and knowledge needs to be taught, and how can they be taught most effectively? How extensive should the training be at this time?

Who will develop the training, and who will conduct the training?

What training techniques and materials will be used?

What budget will be allocated for the company's training and development activities?

How will the progress be measured?
And that's just the tip of the iceberg because franchisees also need to have in place effective training programs for their employees.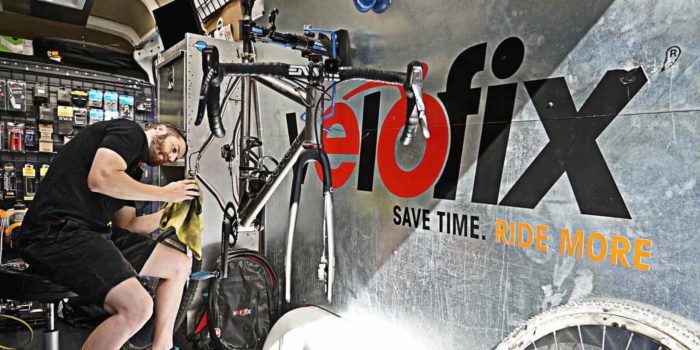 How one of the fastest growing franchises in the US grew its business through streamlined training
Training is important for both franchisors and franchisees. On the one hand, franchisees will seek training programs that will teach them not only how to produce products, sell items, or render services but also how to manage the business itself, including finding the right employees, encouraging their staff, and much more. On the other hand, franchisors will want the franchisee to operate according to the company's procedures and standards. Moreover, the more successful a company's franchisees are, the more likely it is that other people will want to become franchisees, thus increasing the franchisor's business. If training programs are comprehensive, clear and concise the franchisees will become profitable faster.
Let's take a look at velofix, one of the fastest growing franchises in the US. velofix is a mobile bike shop that provides its customers with a wide selection of bicycle tune-up and repair services on demand.
Adam Kourakis, the Manager of Franchise Support and Operations at velofix, says that "Time is our biggest challenge. We built a really robust training program from the start. But we also knew that at some point, we would have to move our existing training materials into an online platform that would save us time." velofix needed training that is clear, engaging, easily accessible, and covers a lot of material. "We also wanted something that gave us good back-end control. Being able to add new material and edit existing material was very important to us," Kourakis emphasized, explaining that they explored a lot of options as they were looking for a platform that could support video and other just-in-time training functions. Rallyware made it possible, meeting all velofix's demands.
The velofix training program included more than 800 documents containing the educational materials and standard operating procedures that provided their new franchisees and bike mechanics with the training they needed to succeed. With the help of the Rallyware platform, velofix was able to allocate all its training content into four different modules with more than 130 active tasks. All the training materials were organized into an online digital library and new franchisees could learn in their own time, at their own pace. Also, the training materials have become more user-friendly and easier for the franchisees to access.
The results have been impressive. Franchisee engagement has increased by 87%. The percentage of franchise owners completing their training has improved by 73%. The number of mechanics completing their training completion has reached 80%. All in all, the time spent on onsite training has decreased, and the time needed for new franchisees to get set-up and running has also decreased. Just for the record, velofix added 44 shops and increased its revenue growth by 300% in 2016. These impressive figures are the result of faster and better franchisee onboarding, better mechanic training, and a higher quality of service. Better training will help to strengthen the brand and attract even more potential franchisees.
As we can see, providing the right training is a key element that leads to business growth that can be seen in many ways: productivity, quality, compliance with standards, employee retention rate, employee engagement, job satisfaction and overall growth of the business. Training and upgrading the owners' and employees' skills make a franchise business work, contributing to an improved brand image for the overall franchise, and proving that training is the best investment a business can make in itself.
If you want to find out more about velofix franchise business growth, click here to download the case study with more details.
News and Insights on Workforce Training & Engagement
We're among top-notch eLearning and business engagement platforms recognized for effective training and talent development, helping to empower distributed workforces
Subscribe