How to Retain Top Talent in 2017 and Beyond
Every manager and HR professional is well aware that hiring and retaining the best possible talent is a key driver for business success. This is because a confident and highly motivated staff doesn't just ensure a more pleasant working environment, it also increases long-term stability, contributes to a quicker achievement of company's goals, and thus improves overall profitability.
Generally speaking, employee retention initiatives are all about encouraging employees to stay for a longer period. For HR professionals, it is one of the most important KPIs of their work. From a business manager perspective, employee retention tactics are a valuable part of motivating your workforce and encouraging them to produce their highest quality work.
Here are just a few reasons your company should consider employee engagement and retention a top priority for 2017:
Hiring challenges: Scouting and interviewing potential talent is time-consuming, costly and stressful. You want to be sure that you get it right the first try.
Employees who leave could potentially join your competition: Yes, even with NDAs and non-compete agreements, there's no way to guarantee you don't lose your old employees to your competitors, especially after the terms of your agreement have expired. However, having a strict policy in place is one way to keep people around. But do you want that to be the only reason?
Long-term employees are valuable assets: Studies show that employees who work for a longer span are more loyal to management and the organization. They are also more familiar with the ins and outs of the business and carry valuable skills.
Attrition equals lost potential: The truth is some employees contribute more than others, and these are exactly the ones you want to hold onto. If too much of your best talent moves on, what happens then?
Current Trends in Employee Retention
As business trends continue to progress at rapid-fire speeds, so do tactics around talent retention. Increasing dialogue around important issues like EEOE (Equal Employment Opportunity Employer), work-life balance, and employee engagement means that your team's expectations of their employer are higher than ever and many businesses are scrambling to meet the demand.
With this in mind, more managers are wracking their brains to follow through on the engagement strategies that keep their employees happy, productive, and on their side. According to an article by Forbes, here are some of the common things savvy companies are doing to create more satisfied employees in today's business climate:
Setting realistic expectations from the get-go: Be sure to be clear from the beginning and explain to the candidate exactly what the job is and how it fits into the larger picture of the organization. Have the potential employee interview with multiple people within the company so they can hear multiple perspectives on what it's like to work there. Yes, you may lose some candidates, but you'll retain the talent who wants to be there.
Provide room to grow: The opposite of growth is stagnation, which is the last thing today's talent wants in their career. Having employees know that their career advancement is valued will make them more eager to stick around and grow with your organization.
Empower your employees: Micromanagement is demoralizing and frustrating for employees, not to mention a huge contributor to burnout. Manage the results, not the individual tasks that go into it and let your employees surprise and delight you with their creativity.
Build your employer reputation: Make sure your reputation precedes you, not just as an organization but also as a great employer. Your workplace is also part of your company's brand (Think HubSpot and Google).
Performance Benchmarking Trends

One of the most frequent topics that comes up among managers is performance reviews. Are they a "yes" or a "no"?
While we cannot give a prescriptive, one-size-fits-all answer to that question, we can share that what we've noticed is that many employers are gradually moving away from traditional, once a year, performance reviews in favor of more a regular, ongoing dialog about employee performance. Even Fortune 500 companies are ditching annual performance reviews and instead choosing to provide real-time feedback that motivates and engages talent. Some organizations in the know are introducing apps and other engagement tools to help employees and managers share feedback instantly and conveniently.
Here are a few tips for optimizing your performance review protocol 2017:
Focus on ongoing conversations and dialogue rather than formal, annual reviews.
Don't forget the power of engagement, where technology can streamline this process.
Studies show that employers still struggle with bias – make sure you're fair and balanced.
Reconsider the "rank and yank" method long-favored by employers. Instead, focus on rehabilitating and retaining employees who have low-performance reviews if they are willing to improve.
Emerging Engagement Trends
Effective employee engagement is becoming the gold standard for attracting and retaining the best talent. Considering that recent research conducted by the Society for Human Resource Management (SHRM) uncovered that maintaining employee engagement is high on the list for organizations today, it's no wonder more business executives are looking for ways to increase employee engagement.
We're finding that among several others, some of the biggest trends in this coming year will be increased communication, improved continuing education, and increased workplace flexibility as a reward for employees.
While it's hard to say exactly what is driving these trends, a more optimistic job market certainly has something to do with it. In 2017, the job market is expected to continue to grow, giving enhanced leverage to both job seekers and employees. This, in turn, will likely cause salaries to rise and employers to want to invest in high-budget job advertising, as well as additional investments like headhunters, hiring consultants, think tanks, non-profits, government, and trade organizations.
As demand for talented employees increases on the employer side and staff continue to raise their expectations of potential employers, we can also anticipate seeing a greater demand for highly skilled HR practitioners with marketable skills like analytics, marketing, branding, and knowledge of emerging technology like augmented reality and wearables. When it comes to HR and employee engagement in 2017, it seems that it will be a year for thinking big.
Companies Who Are Getting It Right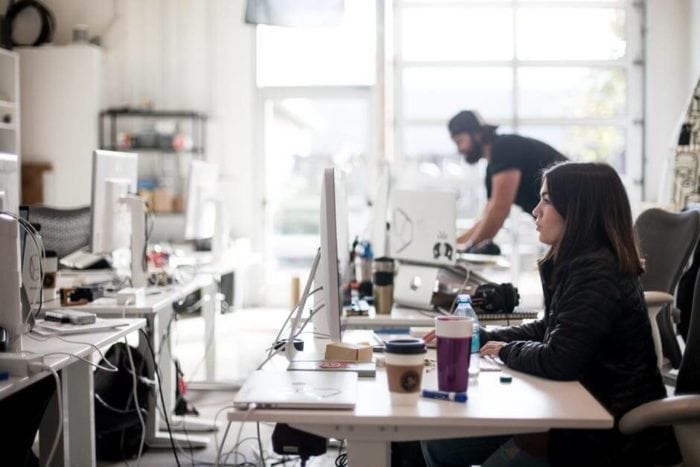 Looking for a little inspiration to help you optimize your organization's hiring and retention strategy in the coming year? Here are some examples of companies that have achieved impressive results with their employee engagement initiatives:
Google: Google's dedication to transparency is built on the idea of breaking down barriers and fostering creativity and collaboration. Their employees feel empowered by this transparency, which helps them create habits of creativity and constant innovation.
Amex: American Express has changed a lot in the past 25 years. They used to focus solely on people getting things done, rather than how they got done. They've now revamped their engagement approach to understanding how behaviors impact employees on an emotional level.
Zappos: At Zappos, a fun and rewarding work environment is one of their core company values. Whether it's rewarding high-performers with "Zallors" or providing sufficient training and growth opportunities, employees rave about working there for a good reason.
Tools for Employee Engagement to Retain Top Talent
If you're looking to engage your employees and attract and retain top talent, making your employees feel valued is not something to overlook. There are lots of different takes on employee engagement technologies as a whole. Some focus on engaging people online, others allow ability for other employees to praise and reward their high-performing colleagues.
One of the most attractive aspects some of these platforms offer is the incorporation of gamification. Such gamification techniques allow employees to see their contributions to a company through objective measurements and fun challenges. It helps to keep them motivated and engaged over the long term.
As a result, companies see their workforces being very engaged and excited, thus contributing to an average of 42% increases in their retention numbers.
Remember that employing the right engagement practices over time is pivotal for businesses who want to attract and retain top talent. Make 2017 the year you commit to an intentional culture that fosters communication and drives satisfaction and performance. Whether it's through technology and gamification, event-planning, fellowship, or some combination of the above, organizations that build a culture of employee involvement will not only be great places to work – they will also stand the test of time.
Click here for your demo and see how Rallyware helps enterprises with large sales forces cut expenses, drive revenue, and transform operations.
News and Insights on Workforce Training & Engagement
We're among top-notch eLearning and business engagement platforms recognized for effective training and talent development, helping to empower distributed workforces
Subscribe