The Next Frontier of Direct Selling: Industry Data You Can't Ignore
For direct selling companies looking for enhanced business competitiveness and steady growth in 2020 and beyond, keeping up with the latest industry data is crucial. This data provides insights into what's happening in the direct selling industry as well as reveals the foreseeable future through the lens of technological advancements, consumer trends, and other aspects. Moreover, "the industry can also better understand where it fits within the marketplace by benchmarking with other industries," points out Josephine Mills, assistant treasurer at WFDSA.
So, without further ado, let's unlock actionable insights from the latest direct selling data. 
Top-selling product categories: Wellness is taking the lead
Wellness and cosmetics products have always been much in demand in the direct selling niche and showed historically high sales. According to the WFDSA, global direct sales reached $192.9 billion, 33.2% of which were generated by Wellness companies, followed by 31.2% from Cosmetics & Personal Care businesses.
The success of these two top categories in the direct selling industry is driven by two factors: customers' desire to improve their health and appearance and uniquely personalized customer experiences provided by distributors, sharing their own passion for the products. This is what direct selling companies have to constantly improve. In the world of Amazon, customer engagement should be powered by the right tools to enhance the shopping experience with a human touch and a convenient purchase experience. 
10 countries generate 79% of global sales: China holds the top spot
According to the WFDSA report, 79% of global sales were generated by 10 countries with China heading the list and the US coming in second. The list also includes Korea, Germany, Japan, Brazil, Mexico, France, Malaysia, and Taiwan.   
It's also worth noting that while sales in Asia and the Americas increased by 1.8% and 1.5%, respectively, Europe saw a slight decrease in sales by 0.3%. 
Another important finding in the WFDSA report was that global direct sales were generated by 118.4 million distributors. With the Asian and Latin American markets showing growth, many direct selling companies are focusing their 2020 strategies on international expansion. To ensure that the 'go international' strategy goes smoothly, it's important to have a single data-driven platform customized and localized for every market. The goal here is to keep brand messaging consistent, providing every distributed team member with personalized training and on-demand support and addressing minor performance issues before they turned into big challenges. Other than that, the platform will be an integral assistant in monitoring and analyzing the progress and struggles of every market by delivering real-time operational and business insights on the current state of business as well as any threats for upcoming possible issues.
The good news is that the independent distributed workforce has increased by 4.2% from 2015-2018. The bad news is that out of these 118.4 million, 54.7% are those who were not active or never planned to be. What does this mean for the direct selling industry?
Distributor segmentation at scale becomes the definition of direct selling success
The reason why more than half of distributors didn't become active lies in the companies' lack of understanding of their recruits' goals and needs. The absence of a personalized approach has a major impact on the motivation to stay and become business-builders.
According to the AARP Foundation study, 44% of distributors quit direct selling companies after less than a year. Another study showed even more shocking figures: a whopping 50% of distributors leave a company in their first year and 90% don't stay with their company for more than five years.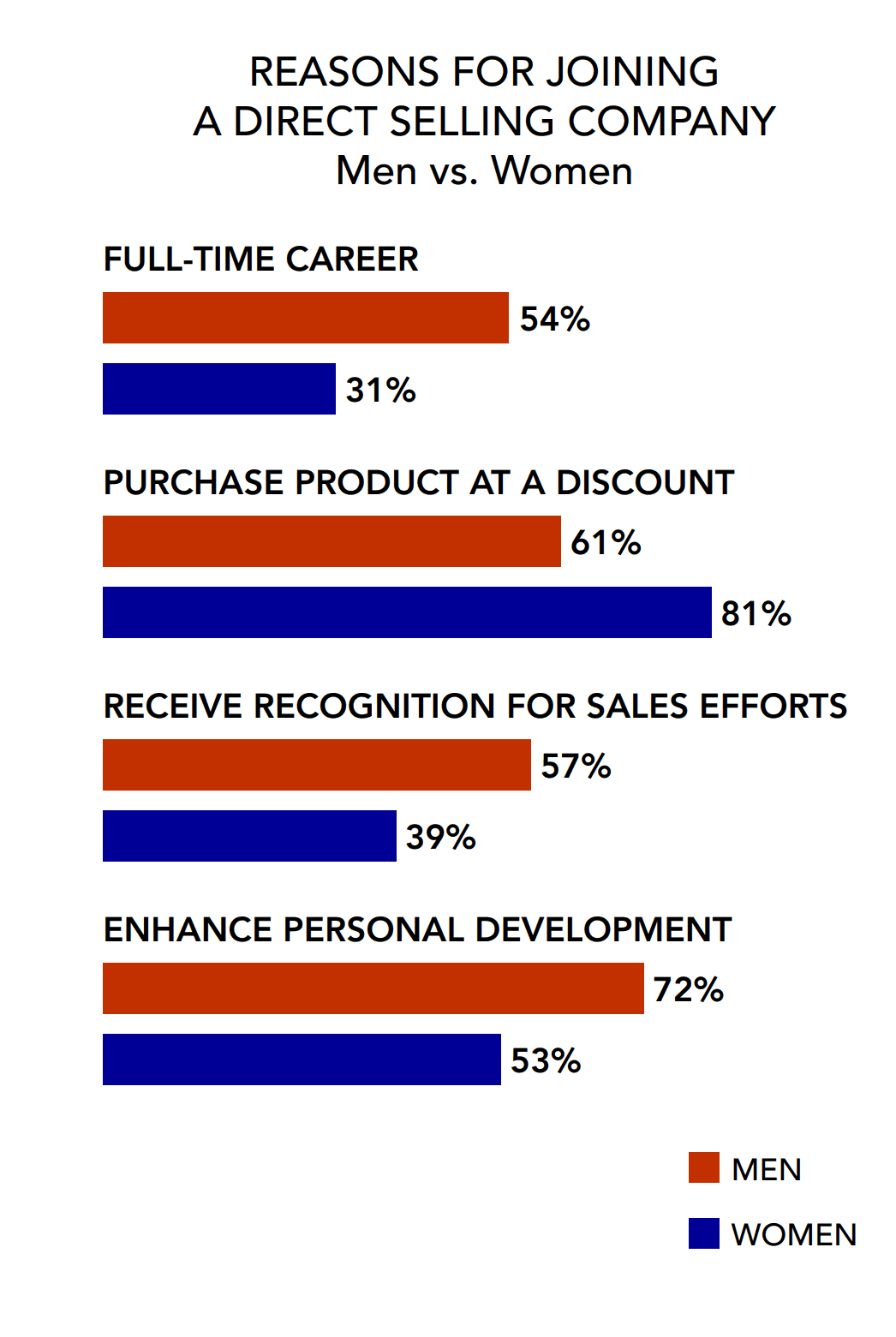 Again, it all comes down to the lack of personalization and segmentation. First of all, the right segmentation allows direct selling companies to separate distributors from customers who joined because they love products and want to buy them at a discount. Second, by grouping newly joined distributors by their unique goals and needs, such as building a business or networking, there's a much better chance to retain them and keep them active.
For every direct selling company, there can be more specific groups or even subgroups of distributors for most personalized experience journeys. The goal is to divide and conquer, but in a good way – divide by needs and goals and conquer distributors' attention, make them feel supported at every step of their journey, and let them know you understand them, using relevant training and on-demand guidance. But it all should start with collecting data and understanding your field. 
Direct selling is triumphing over other gig opportunities
When it comes to gig opportunities that keep independent workforces engaged the longest, direct selling top the charts. As studies show, "the average independent contractor is engaged in the gig economy opportunities for 7.2 years. However, distributors generally have a longer tenure, with an average of 8.5 years."
Distributors stay with direct selling companies 1 year and 3 months longer than independent contractors involved in other gig opportunities.
Moreover, the studies also found that distributors are more likely to rate their experience in the direct selling business as highly satisfiable, compared to other gig opportunities. These figures tell us that direct selling companies are better at providing an entrepreneurial business-building experience, but it doesn't mean that they should stop there. The business world changes quickly as well as the needs and aspirations of the workforce and consumers. To stay in tune with them, it's a good idea to leverage smart data and the right tools to segment individuals, provide training and support them at scale.
The direct selling industry goes beyond entrepreneurial freedom
Another coin in the karma bank direct selling companies can put thanks to turning gig opportunities into more than just a way to earn some extra cash.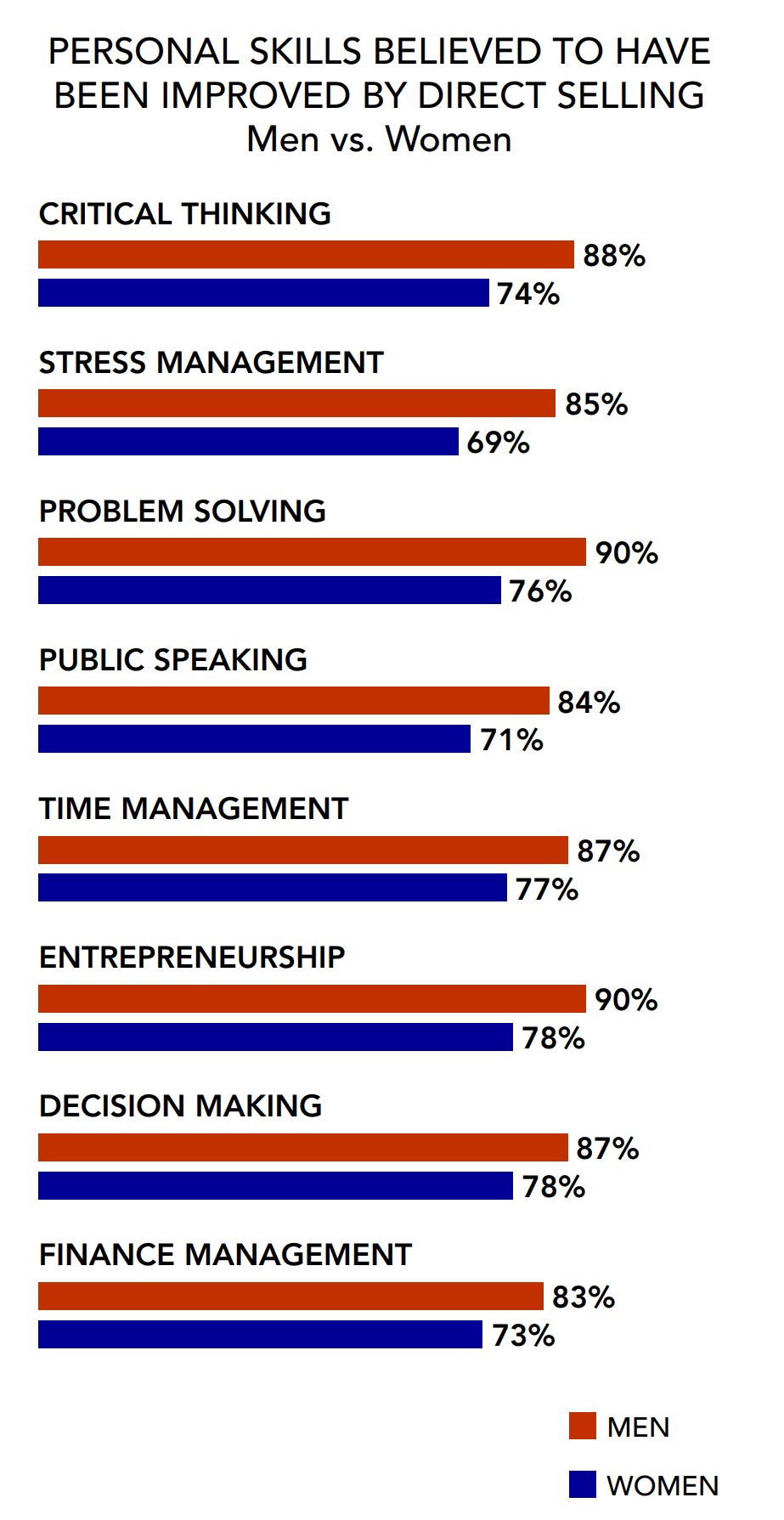 As studies reveal, 75% of distributors say that the direct selling business helped them develop interdisciplinary professional skills that benefited them in their full-time jobs as well.
To continue developing your distributors and improving their productivity, it's crucial to have the right performance enablement system on hand that combines learning tasks with business activities prescribed at the right time to the right individual. Powered by the analytics engine, the system helps direct selling companies measure the current progress of every distributor as well as the whole field and shape their training programs, if necessary.
Stay ahead of the game with the power of direct selling industry data. In the volatile business environment, a major advantage any direct selling company can have is fresh industry insights and the right tools that together will drive their growth and ensure that they're future-ready. 
Want to get ready for the future and supercharge your field the smart way? Request a demo of the Rallyware data-driven performance enablement platform! 
News and Insights on Workforce Training & Engagement
We're among top-notch eLearning and business engagement platforms recognized for effective training and talent development, helping to empower distributed workforces
Subscribe