The Complete Guide to Direct Sales Software 2024
As we head toward 2024, direct selling companies are going to want to ensure they have acquired the top direct sales software. As times goes on, having the most powerful digital framework for the distributor's experience becomes more and more important. For example, researchers John T. Fleming and Dr. Robert A. Peterson found that in 2023, only 3% of gig economy participants were direct selling distributors. That's down from 6% in 2020, a drop of 50%.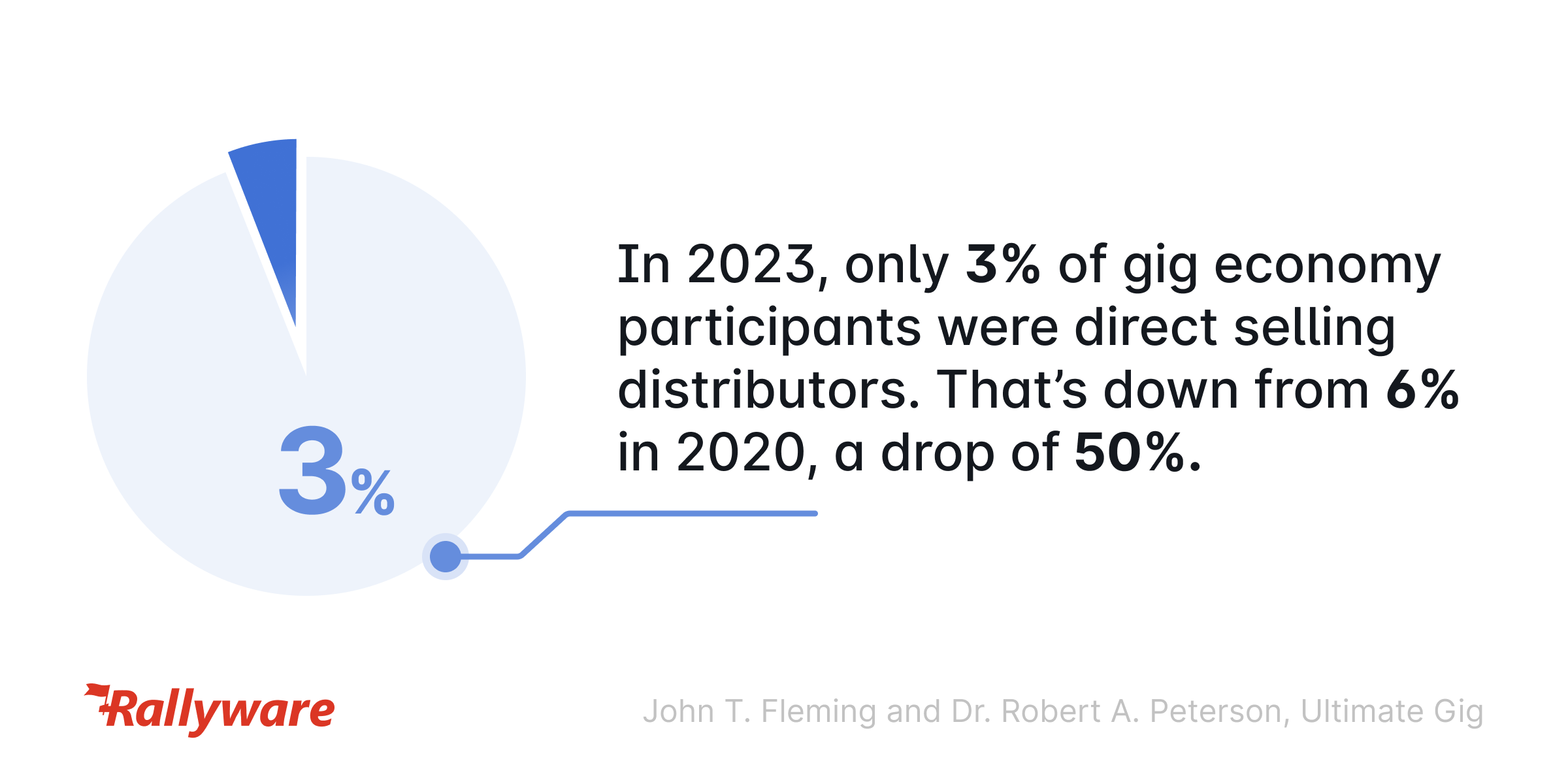 Why Is Direct Sales Software Important?
It's easy to see why, with large gig platforms providing data-rich, robust, easy-to-use applications (e.g., the Uber app). Instead of this path, direct sellers have often used direct sales software that just isn't effective–that is siloed, hard to use, with data in separate locations so that the distributor's experience becomes challenging and irrelevant for his or her personal goals.
For example, let's say that Jane signs up with a direct seller to help save for her daughter's thirteenth birthday. She wants to learn how to sell products, and she wants to meet her fiscal goals. Yet the technology that the direct seller provides is old fashioned and simplistic. She'd make more money faster driving for Uber, she decides.
With direct selling in a difficult place heading into the rest of 2023 and 2024, it's crucial that large direct sellers ensure their direct sales software is as consolidated and data-rich as possible, enabling distributors for the highest possible sales performance at scale. It's important that your direct sales software vendor be an active partner in your success, helping you implement and scale your technology. As we've said in one World of Direct Selling article, "[Your tech vendor] should treat your success as their success–and have as much stake in the digital strategy behind the implementation of their technology as you do."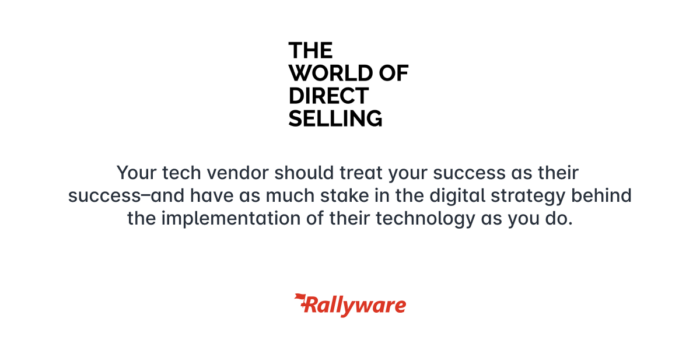 Without further ado, let's survey the direct sales software landscape for 2024.
The Guide for Direct Sales Software for 2024 and Beyond*
Note that some of the below software systems, like Rallyware and Penny AI, are all-in-one platforms implemented by direct sellers for distributors. Others are purchased by and delivered directly to distributors. The latter have been marked in a separate section. Below are tools for direct selling enterprises.
Epixel MLM
This software is built for direct sellers to help their distributors succeed, with "platforms" that range from marketing tools to dashboards with actionable insights.
Pros: Custom reports, strong customer service, user friendly
Cons: Only in one time zone, lack of customizable features, slow project rollout
Krato
This platform includes multiple tools to drive sales and retain customers. It is custom designed for each direct seller.
Pros: Automated workflows, gamified training, rewards and recognition
Cons: Lack of tasking solutions so far, few public user reviews
MarketPowerPRO
This tool optimizes customers' shopping experiences and enrollment with replicable distributor websites, genealogy reporting, and more.
Pros: Visually appealing, easily collects distributor feedback, can add additional modules
Cons: Some glitches, learning curve for admins
Penny AI
This platform enables social sales growth and learning with solutions for companies as well as distributors.
Pros: Automated task workflow, automated lead organization for distributors
Cons: Contact follow-ups often not personalized, hard to navigate CRM elements, role of AI unclear
Rallyware
This platform drives distributor sales performance at scale, shaping the most productive behaviors with a personalized workflow.
Pros: All-in-one platform, gamified rewards and recognition, smart training, personalized user journeys, quick to develop new functionalities, largest direct selling data set in existence
Cons: Limited dashboard customization, no face-to-face training currently
RapidFunnel
This platform delivered to direct selling companies and distributors, helping the field track and complete tasks and build their businesses.
Pros: Authentic Sharing Technology, automated drip campaigns
Cons: Steep learning curve, limited integrations
Retortal
This tool creates and distributes posts for direct selling consultants to use monthly.
Pros: Low cost social media marketing
Cons: Limited use cases
S4DS
This direct sales software platform to boost sales performance across multiple channels.
Pros: Ready-to-use, free trial
Cons: Not very customizable or personalizable for specific business cases
SocialBug CRM
This modular cloud CRM creates a widget on websites to extend purchases into CRM processes, such as recurring memberships.
Pros: Reliable distributor software
Cons: Designed for more experienced users, bugs and glitches, negative reports on support
Spotio
This field sales software is used to increase sales and shorten sale cycle length.
Pros: Real-time information, easy-to-use out of the box
Cons: Negative reports on support and cancellation processes, some cumbersome functionalities, glitchy calendar syncing
Verb
This sales enablement application drives brand awareness, revenue, and retention for distributors and customers.
Pros: Modular platform
Cons: Few user reviews, has possibly sold its direct selling software business to private equity
Direct Selling Software Purchased by Distributors
Below are a few platforms that are purchased by and delivered to distributors. Though this list is targeted to direct selling administrators and Operations leaders, it's important to note the below systems as well.
Direct Sidekick
This tool helps with accounting, inventory management, CRM, and more for distributors. It mostly involves financials and the automation of manual tasks.
Pros: Automatically import and track transactions, report update automation
Cons: Limited system with few public user reviews
Pamtree
This direct sales software app helps direct selling entrepreneurs manage their businesses.
Pros: Take your business on the go, Instagram automation
Cons: Low score for support, no real L&D
Teamzy
This tool is a CRM for direct selling distributors.
Pros: Goal tracking, speed of use, prospect ranking
Cons: Negative customer service reports, highly monthly costs for customer size
Traktivity
This app for distributors helps them manage their businesses in one place.
Pros: Helps with organization, contact import
Cons: Learning curve, glitchy, poor integrations
Thoughts for the Direct Selling Software Buyer: Smart All-in-One Platforms Are the Future
Whichever platform your company chooses, keep in mind that today's technology is capable of a great deal. Look for technology that takes an all-in-one approach to data-driven actions, meaning that the platform uses data across separate modules (learning, rewards and recognition, etc.) to make the distributor as enabled and high-performing as possible. The smarter the platform is, the more personalized the distributor's usage of it is, and so the more the distributor can and wants to accomplish.
Take the first step toward direct selling digital transformation by scheduling a demo of Rallyware's performance enablement platform. Transform your field into a high-performing powerhouse.
*These pros and cons are sourced from real user reviews.
News and Insights on Workforce Training & Engagement
We're among top-notch eLearning and business engagement platforms recognized for effective training and talent development, helping to empower distributed workforces
Subscribe