Consumer Experience in Retail: How Performance Enablement Helps with Frontline Learning, Engagement, and More
Retail is in a precarious position – one that solid frontline learning and engagement can help with, if done well. There have already been nearly as many retail bankruptcies in 2023 as there were in 2022 (4), including established companies like Party City and Tuesday Morning. According to The New York Times, retail's mood is downbeat.
To counteract this slump, many retailers have been emphasizing Consumer Experience (CX), also known as Customer Experience. And they've leaned into omnichannel strategies. I.e., the customer has a unified experience no matter what "channel" they're shopping in, in-person or online.
This is a bit of a technical term that might be difficult to understand, so let's break it down before asking how to optimize it with frontline learning, training, engagement, and productivity tools. (Perhaps counterintuitively.)
What Is Consumer Experience (CX)?
Consumer experience in retail refers to the end-to-end experience a customer has while browsing or buying in-person or online – or interacting face-to-face with store associates. It includes all points along the customer journey, from initial contact with the brand or retailer to the final purchase and post-purchase follow-up. Which includes mention of any new merchandise personalized to the customer's tastes.
A positive consumer experience in retail requires an environment that meets or exceeds the expectations of the customer. That applies to both digital and brick-and-mortar experiences. It means providing exceptional and easy service, and delivering a seamless shopping experience that consumers actually enjoy. This might include factors such as the store layout, web design, merchandising, pricing, convenience and ease of use, and customer interactions.
Retailers enhance the consumer experience to create customer loyalty, increase customer satisfaction, and ultimately drive sales. By creating a positive experience for customers, retailers can differentiate themselves from competitors and build a loyal customer base. They create connections with their clientele, both digitally and in person. Strong frontline learning can assist with this.
Why Are Retailers Hoping to Boost Consumer Experience?
Expert Esteban Kolsky says that 72% of customers will tell about a positive experience to 6+ people. On the other hand, with a negative experience, 13% of customers will share their experience with 15+ other consumers.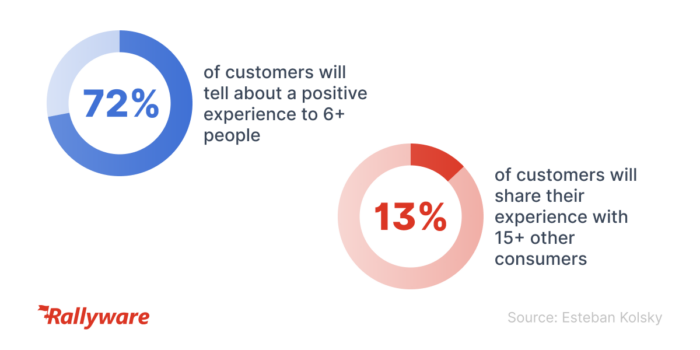 In that sense, there's much to gain from optimizing CX, and much to lose from ignoring it. For decades, retailers have treated CX as merely a customer service problem. Improve customer service and you'll have a positive customer experience, they thought. Yet with more buying options than ever, retailers have realized that customer experience extends beyond service. (Though service is part of it.) In the age of omnichannel, it reaches into the ease of the buying experience, the integration of online and in-person browsing, and customer personalization. It's important to be able to differentiate yourself in a competitive retail landscape, especially with companies like Amazon ruling the roost. In terms of eCommerce, Amazon has 37.8% market share, with Walmart having 6.3%, Apple 3.9%, and eBay having 3.5%.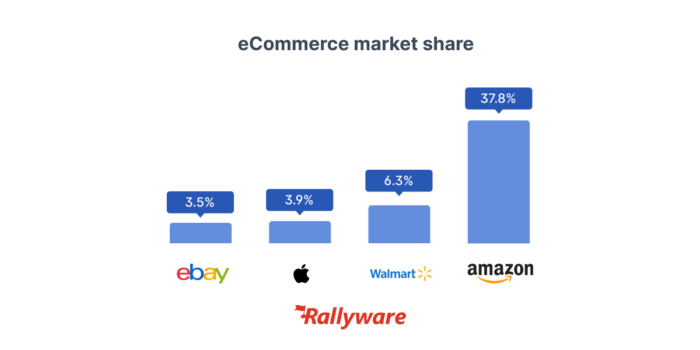 Of course, the specific products that retailers provide are still material to their success. But retail even a decade ago had fewer large brands. The industry is crowded and getting more so, even as the bankruptcies pile up. Strong CX helps you stand out. On eCommerce platforms, many retailers have invested large amounts of money in optimizing the consumer journey. For example, loyalty programs and digital fitting rooms. But as of the latest findings, eCommerce sales only accounted for 22% of total sales. That leaves a lot of room for boosting CX in physical stores, which clearly are still very important, no matter how much hype there is around digital consumers. After all, Amazon has such a huge market share – when retailers compete on eCommerce, they're going to have a hard time elbowing out Amazon.
Thus, it becomes incumbent on retailers to invest in CX for brick and mortar. Ways to do this have included:
Virtual merchandising (VM) displays
Omnichannel optimization (data from online makes its way to brick-and-mortar)
Digital ordering displays
Self-checkout
AI associates
The problem here is that while some of these innovations might be helpful, they're leaving untouched perhaps the most essential component of retail CX: the frontline workforce. Plus, it's just good business sense to invest in CX through frontline learning, engagement, and productivity. By default companies are paying for their frontline associates – why not invest in their success, rather than adding new costs through technologies that may or may not result in higher sales? Who's going to make a purchase because of a VM display?
Maybe some people, but not as many as would make a purchase on the basis of a memorable interaction with an associate. Which doesn't only include customer service, but includes conversations about products, associate enthusiasm and engagement, etc.
Driving Omnichannel Sales with Performance Enablement
One notable way to generate revenue across digital, online, and brick-and-mortar experiences is through what we call Performance Enablement technology for the frontline. We've talked about Performance Enablement Platforms in the past but here we'll discuss it particularly as it relates to CX.
According to Google, 75% of people say their smartphones help them be more productive.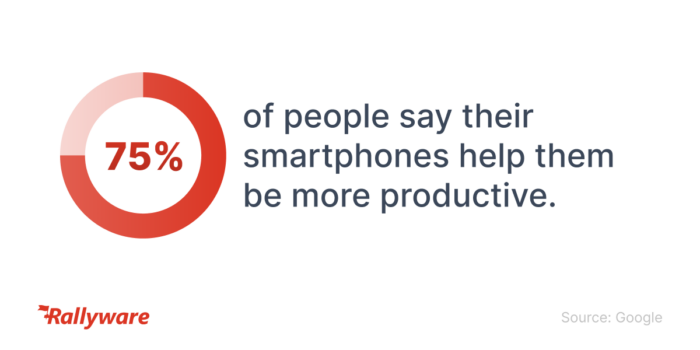 In that sense, why wouldn't you use mobile devices to deliver greater returns on frontline laerning and engagement?
Of course, we've written about this before, including in our PEP (Performance Enablement Platform) white paper. Performance Enablement is a model for delivering technology that integrates a group of tools and solutions into a single experience, consolidating the workflow into one app while personalizing the UX. Each associate is different. Particularly in the age of the gig economy, it's vital to respond to individual associates' needs for independence and self-guided workflow.
Each associate has different goals, and if you work with a commission structure, they'll need technology to track and manage their progress, as well as showing them how to convert – and retain – more customers. In the 2020s, tech has to be flexible and adaptive, changing based on associates' skills and aims.
Through learning activities, this will help with frontline learning and training, meeting associates where they are, and developing the skills they need. Performance Enablement will also help with engagement and productivity as mobile technology enables associates at every step of their workflow, aiding them in communicating with customers and each other. Their mobile platform triggers personalized activities through smart notifications (e.g., "You only have to sell $40 to reach your weekly goal and get a badge!"). In the case of Rallyware, these are based on the technology's intelligent understanding of what will help them upskill and sell more at this precise moment. Plus, the tech should be enabled to track customer relationships, including digital purchases, to service specific clientele. That matters in an age when clienteling is key.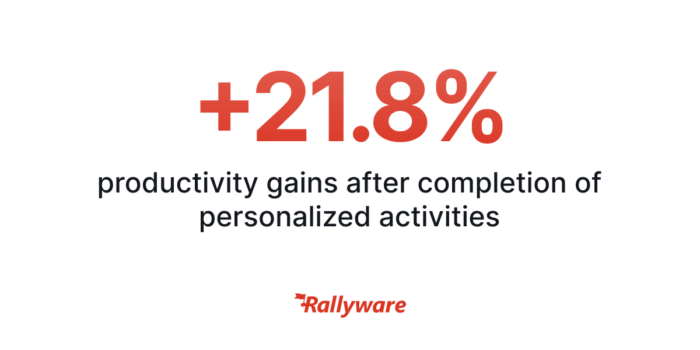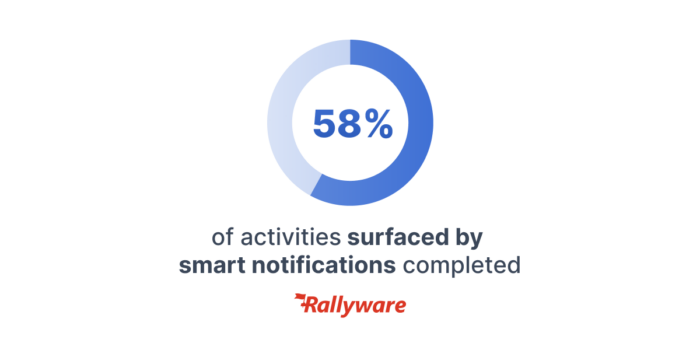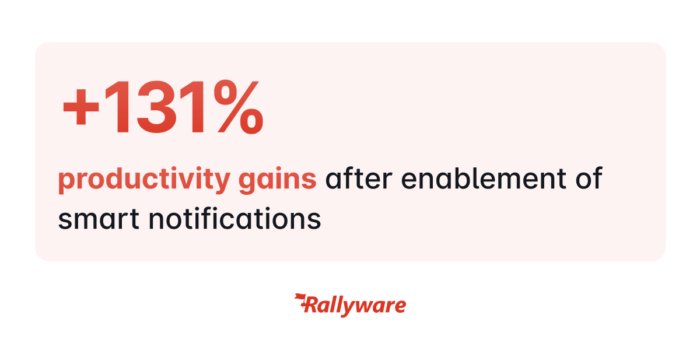 How does this affect CX? Ultimately, with better customer service, and more knowledgeable, engaged, and persuasive associates – not to mention, more productive and energetic – CX increases. The numbers speak for themselves when you look at how personalized activities and smart notifications affect productivity.
Conclusion: Boosting Frontline Learning, Training, Engagement, and Productivity to Drive CX
In the end, as we've seen, Performance Enablement is a hugely useful way of boosting frontline learning and performance. Because associates are a major asset for retailers – indeed, companies can adopt "robot" employees all they want, but customers will always want to connect with real people – if they're not boosting CX through frontline learning and productivity technology, they're leaving money on the table. They're investing in the wrong direction. And in our estimation, Performance Enablement represents the best in frontline technology.

Click here to request your demonstration of Rallyware, the Performance Enablement Platform for the frontline workforce of today – and tomorrow.
News and Insights on Workforce Training & Engagement
We're among top-notch eLearning and business engagement platforms recognized for effective training and talent development, helping to empower distributed workforces
Subscribe