In the War Over Remote Work, How Can You Stay Ahead of the Curve?
Today, companies are facing a wave of transformation as COVID-19 turned the working environment on its head – forcing a shift to remote work. There is a war over remote work, and having grown accustomed to the freedom and flexibility of working remotely, employees are winning.
Yet, despite some large companies that have decided to allow employees to permanently work remotely, many want to see employees back in office. "Remote work doesn't work for those who want to hustle," said JPMorgan Chase CEO Jamie Dimon. The bank faced backlash for this comment, with Dimon himself receiving a "nasty email" from an employee's wife.
Apple recently introduced a new hybrid model requiring individuals to return to the office three days a week, beginning in early September. The company's stance is prompting some employees to quit – in a company Slack channel, roughly 10 people said that they were resigning due to this hybrid policy, or knew of others who had been forced to quit. A group of employees recently penned a letter to CEO Tim Cook, encouraging the company to reevaluate the hybrid model, yet this request was denied, as the company believes that "in-person collaboration is essential to our culture and our future."
If your policies are currently in flux, you need something flexible when you are trying to determine how to train your new employees. Because, as the current realities have demonstrated, even the best laid plans are subject to change. The new working environment of today requires new approaches to training, and having the resources and technology on hand in order to streamline workflows, develop a hyper-effective upskilling and reskilling framework and offer key learning insights is key. Here are some tips from Rallyware on how to adopt an effective approach to training your remote and distributed workforce.
Deliver just-in-time training, anytime, anywhere
People are busy, and remote work often comes with its own challenges (barking dogs, crying children…) How can we therefore successfully integrate learning and training initiatives into the fast-paced routines of everyday working life? It is important to account for challenges of a remote and distributed workforce, such as the distractions posed by the home environment, and to make the learning and training experience as simple and effective as possible.
In working with organizations with distributed teams over the past years, Rallyware has identified some best practices. How can companies successfully train their remote and distributed workforces? Rallyware's VP of Sales and Client Success Dan O'Marra highlighted the importance of identifying several key metrics that are critical for employees to maintain while working remotely. For instance, sales teams have specific performance metrics such as closing sales deals. Those metrics are then used to encourage teams and keep them focused and motivated, whether this may be through points, certificates or badges. "We are going to put micro-training into work, identifying those [micro-learning] topics and relate them to those KPIs that have been identified," he explained. It is important to connect each learning initiative to business KPIs such as the ones mentioned above, and ensure that each training or engagement initiative is measurable. Is training ultimately driving the results that we are seeking?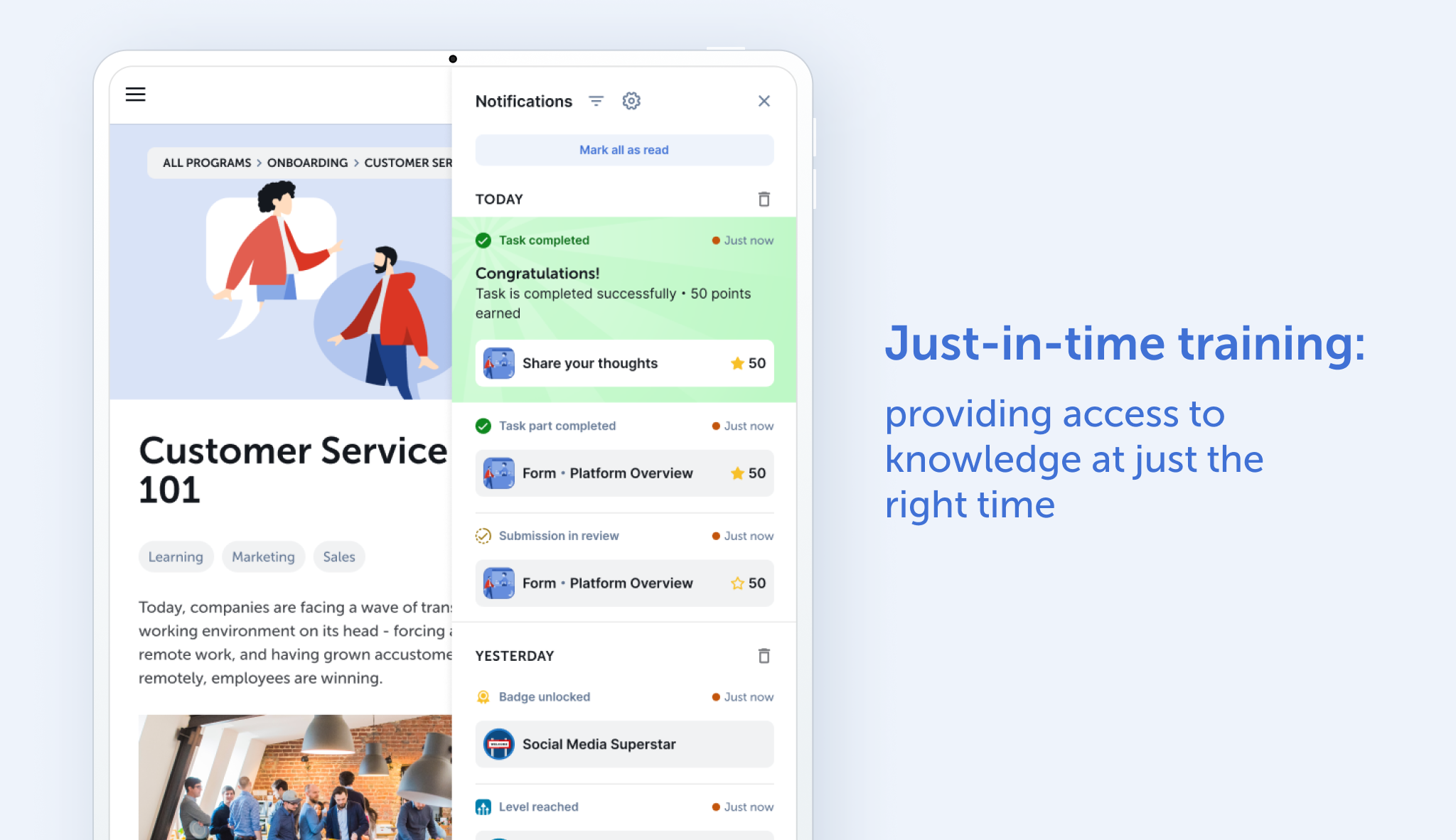 A Performance Enablement platform "doesn't just provide training; it also helps affect the behavior change necessary for long-term success." This just-in-time training method emphasizes delivering the right training at the right time, when an employee's performance may be dropping or they may be demonstrating great progress. Focus is on reskilling and upskilling employees at points of need, as individuals are provided with nudges or triggered activities. Consider: do we have the data to ensure that training is effective, and is it doing what we are looking for in employees (i.e. changes in behavior?)
For instance, as a junior account executive, Carolyn has enjoyed a successful first few months in her new position, with several new sales opportunities found, and strong client relationships built. She is then awarded a virtual 'congratulatory badge' and provided with courses related to client management and customer service to enhance her existing skill sets. Now that she has built the relationships, how can she nurture them? Such initiatives foster a culture of continuous learning and growth, inspiring employees to do just a little bit more, in their journey to reach their goals.
To gain key insights and make decisions, focus on data
"In the past, analytics used only employee data. I see an opportunity to use a combination of people data and business operations data instead, to deliver the right learning to the right person based on their performance," Serena Huang, former Global Head of People Analytics at Kraft Heinz, noted during a recent Rallyware interview. Huang pointed to the importance of identifying peoples' goals and aspirations – what do employees want to do, and where do they want to go next? Where are they currently in terms of their career development?
In addition to capturing basic data such as one's job function and education level, there is the opportunity to dig deeper and capture more data that may be overlooked. Ambitions may go beyond current job titles, an employee, for instance, might aspire to be a chef at a large food service company such as Kraft Heinz, while they are currently a financial analyst. People analytics can provide the answers – business leaders just need to ask the right questions.
In the new work environment, when dealing with training remote and distributed workforces, when employees are dispersed, adopting a data-driven culture is key. Now more than ever, it will become even more crucial to rely on data to "get it done."
"Remote work is this incredible invitation to really get good at building inclusive cultures where there's a wide variety of types of people, and to build a culture where everyone feels included and everyone is experiencing ongoing growth and development on a regular basis. That's the challenge, and it's not an easy one. But the business isn't easy."


– Shane Metcalf, Co-Founder and Chief Culture Officer, 15Five
Many employees are enjoying their newfound flexibility – in a recent survey of Americans who are employed or searching for a position that can be entirely remote, 65% said that they were willing to take a 5% pay cut if they had the option of working remotely full-time. Meanwhile, 55% would give up social media for the next year. Tech companies have become involved in a "delicate dance" with thousands of employees, as the war over remote work rages on and many are unsatisfied with return to work policies.
Yet, even the best-laid plans are subject to change, especially so during these uncertain times, as deadly COVID-19 variants continue to spread. The fewer interdependencies you have with your current plans, the greater flexibility you will have in dealing with the unknowns of the future. If remote work is here to stay, now is the time for companies to harness technologies and adopt a data-driven approach to provide employees with the best possible experience, and to take a proactive step towards training their newly remote and distributed workforces.

Set your employees up for success in a remote and distributed work environment. Request a demo to learn more about Rallyware's Performance Enablement Platform, and how it can help your organization with just-in-time training, real-time analytics, personalized learning experiences and more!
News and Insights on Workforce Training & Engagement
We're among top-notch eLearning and business engagement platforms recognized for effective training and talent development, helping to empower distributed workforces
Subscribe