74% of Remote Workers Are Concerned About Being Surveilled. How Can We Strengthen Employee Trust & Drive Productivity?
Do employers and employees trust each other in 2021? This was the question posed by HR technology & services company Elements Global Service. Their study points to a burgeoning lack of trust between employees and employers – with 74% of those who work remotely expressing concerns about their employer monitoring when as well as how much they work. Meanwhile, 76% of workers who use a computer are concerned about their employer monitoring their communications. Such findings underscore the importance of building and maintaining a culture of trust in the workplace.
"The key to alleviating distrust is investing in solutions and becoming more flexible, transparent and involved," noted Rick Hammell, CEO and founder of Elements Global Services, in response to this survey.
So, how can business leaders become more flexible and involved in the day-to-day working life of the members of their workforce? There must remain a fine balance – leaders must remain invested and deeply involved, yet not to the point of overly monitoring the members of their workforce, and potentially infringing on privacy.
Especially in the remote and distributed work environment of today, it is crucial that a strong sense of trust exists between employers and their employees – and that leaders provide the members of their workforce with the tools and resources that enable them to do their best work. Enter: Performance Enablement platforms – solutions that provide employees with the adequate resources, and employers with key insights and information into the skillsets, goals, learning styles and preferences of the members of their workforce. Based on years of working with and developing solutions for remote and distributed teams, here are some of Rallyware's tips and best practices for establishing and maintaining a strong culture of trust.

To build employee trust, deliver an exceptional & personalized onboarding experience from Day One
First impressions matter. According to Gallup, only 12% of employees strongly agree that their organization does well in its onboarding of new employees. Additionally, employees with an exceptional onboarding experience are 2.6 times as likely to be highly satisfied with their place of work.
Data from the 360 assessments of 87,000 leaders identified three elements that are often considered the foundation of trust: positive relationships, good judgement/expertise and consistency. Tailoring learning experiences specifically for the individual employee is one way to establish a strong employee/employer relationship and sense of trust.
For instance, as a new hire at a company, Geoffrey's ultimate goal is to become a manager on the company's marketing team. In this case, all training materials and activities assigned to him will be aligned with this aspiration – content related to presentation skills as well as time and people management. If Geoffrey's training is in line with his personal goals as opposed to training that is not relevant to his career path, would he be more inclined to trust that his employer understands him and has his best interests at heart? Most likely.
One excellent way to build relationships from the get-go is investing time and resources into discovering an employee's strengths and weaknesses – this also shows that you, as an organization, care about them as an individual. Filling in these gaps early on in the distributed workforce onboarding process also allows for individuals to feel more confident in their roles and have more clarity in regards to job expectations. These data-driven assessments also enable managers to automatically deliver the appropriate reskilling and upskilling materials to employees.
Create a common goal & lead employees towards that goal
"Good leaders make people feel that they're at the very heart of things, not at the periphery," said author and scholar Warren Bennis. How can employees feel a part of something bigger? Having a shared mission and sense of purpose makes employees feel that they are working together to achieve a common goal – this can help to align their behaviors to attain a shared outcome as well as enhance a sense of trust.
For continuous engagement – why not make the training and learning experience fun – one that is enjoyable for employees, and strengthens their connection to their organization? Data-driven gamification and interactive tasks guide employees through an individualized game-like journey of learning, whether this may be for onboarding, upgrading, or developing new skills. Rallyware's data-driven engagement programs deliver point-values, as well as virtual rewards in a manner that enhances the performance of each individual.

For instance, after completing the first module of sales training that is focused on best practices for customer service, Desiree receives a "sales pro" badge – and is able to see that a handful of her colleagues have also unlocked his badge (i.e. have completed the same training module). Such a feature allows Desiree to see that – like her – others are working towards this target, providing a sense of having a shared mission, and a sense of comfort that she is not in it alone. Celebrating these small successes is a great way to recognize and reward everyday achievements.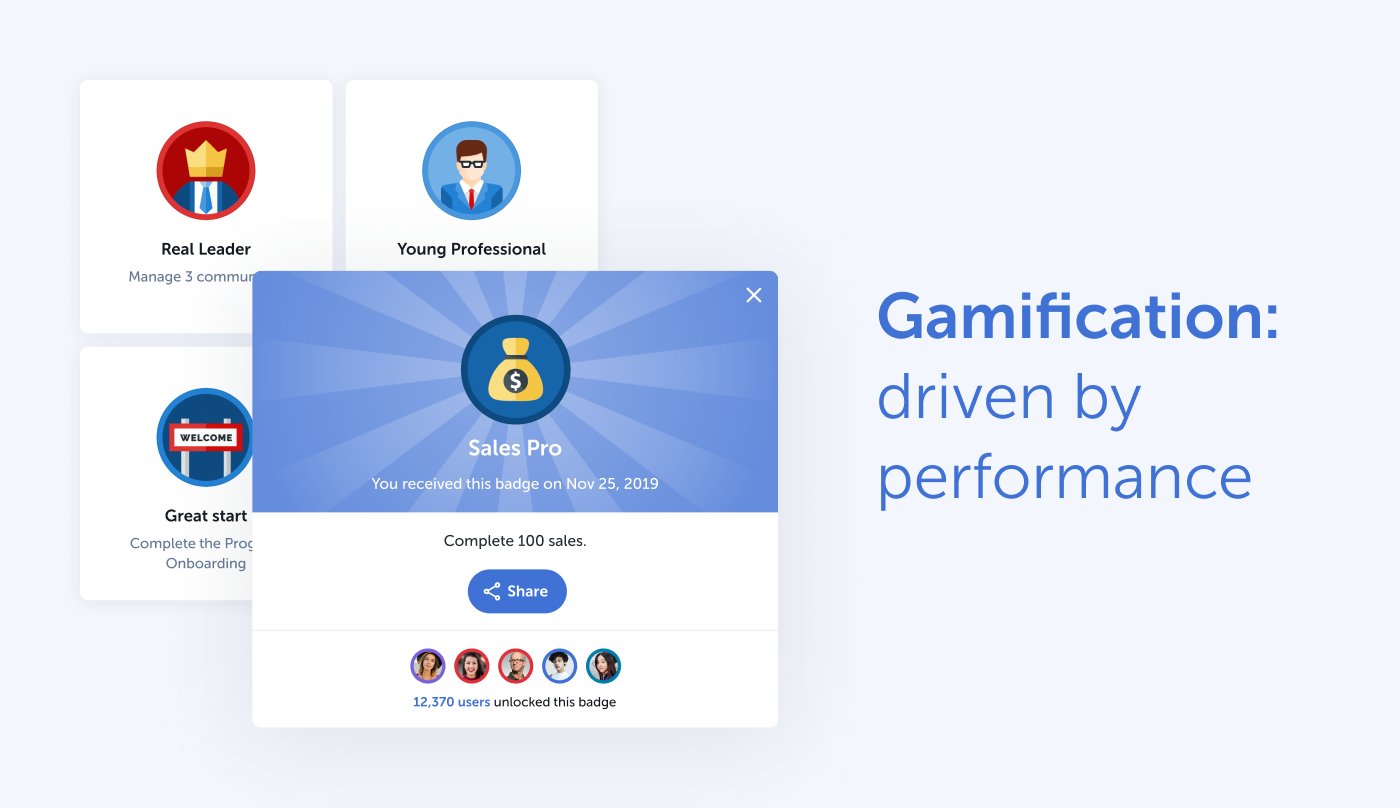 For each employee, provide a visual roadmap to success
It is having this visualization and transparency that is key – as individuals are able to see where they are standing, in regards to their peers and their personal goals. How are they currently performing? How are they ranking on a company or team leaderboard? This is also where the power of smart incentives and recognition programs come into play – looking at the contribution made by each individual – and recognizing and rewarding their efforts. Such programs use people analytics to track working behaviors, daily activities and performance results, and to automatically create personalized paths to success for each individual, triggering the right activities for the right person, at the right time. This inspires continuous improvement and growth.
For instance, upon receiving the "sales pro" badge, Desiree is provided with tasks that give her an opportunity to apply her newfound knowledge, such as creating an outreach email to send to a prospect, demonstrating her sales skills.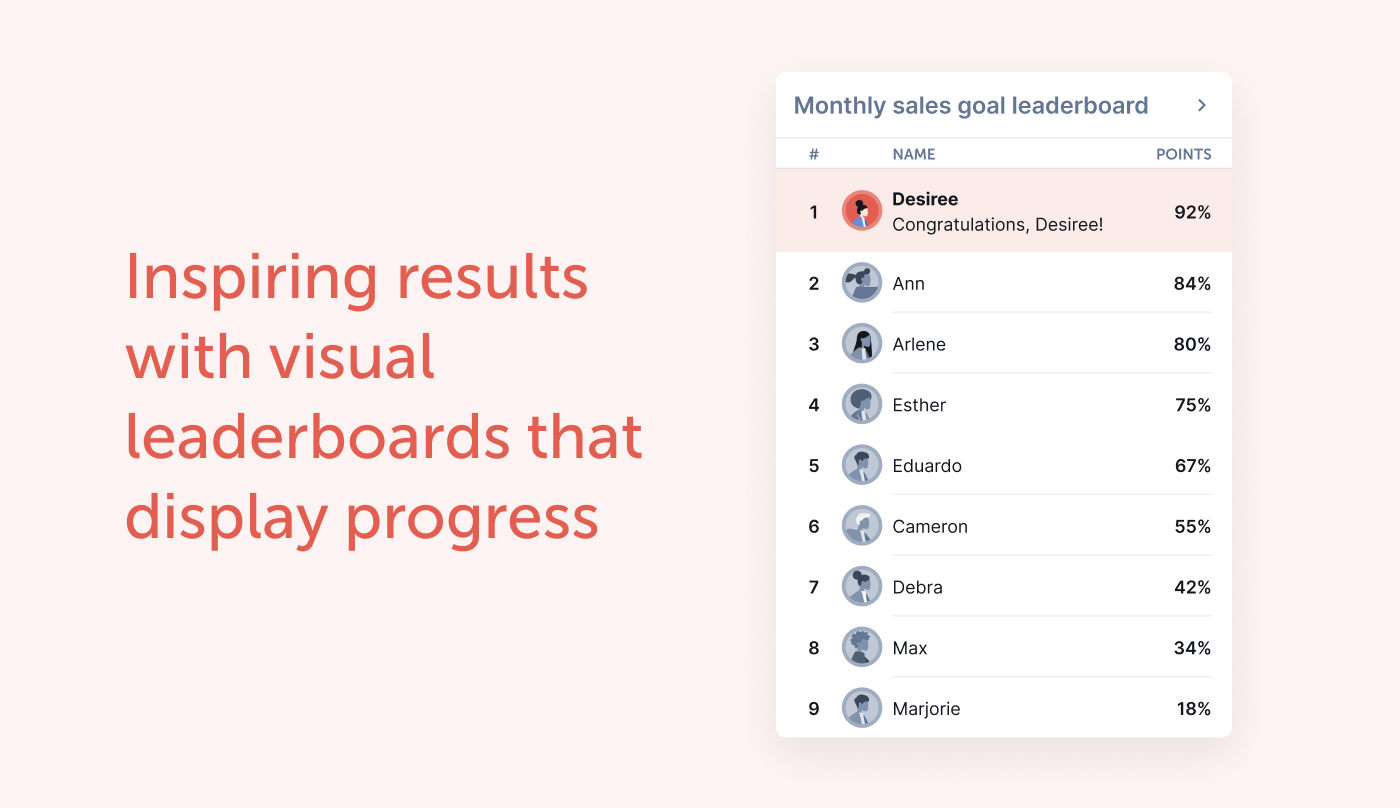 Employee trust is crucial – for business leaders, the key is to harness data and people analytics to better understand each member of their workforce, and then use that information to connect with them and help them succeed. Recognizing and rewarding employees with robust and smart incentives and recognition programs and taking some time to personalize the employee experience will allow business leaders to trust that their employees are doing their best work, and allow employees to rest assured that their organizations have their backs.
Learn more about the power of personalized learning and engagement programs, smart gamification and more – schedule a demo to see Rallyware's Performance Enablement Platform in action!
News and Insights on Workforce Training & Engagement
We're among top-notch eLearning and business engagement platforms recognized for effective training and talent development, helping to empower distributed workforces
Subscribe