2021 Rallyware Report Reveals the Top Trends in Learning and Performance
In order for companies and their distributed workforce members to thrive in the new world of work, there is a need to build learning programs that are engaging, and that drive performance and productivity at scale. We know that many employees today embrace opportunities for learning and development – with 94% of employees saying that they would stay at a company for a longer period of time if that company invested in helping them learn. Carving out moments for learning to occur, within the day-to-day, is essential.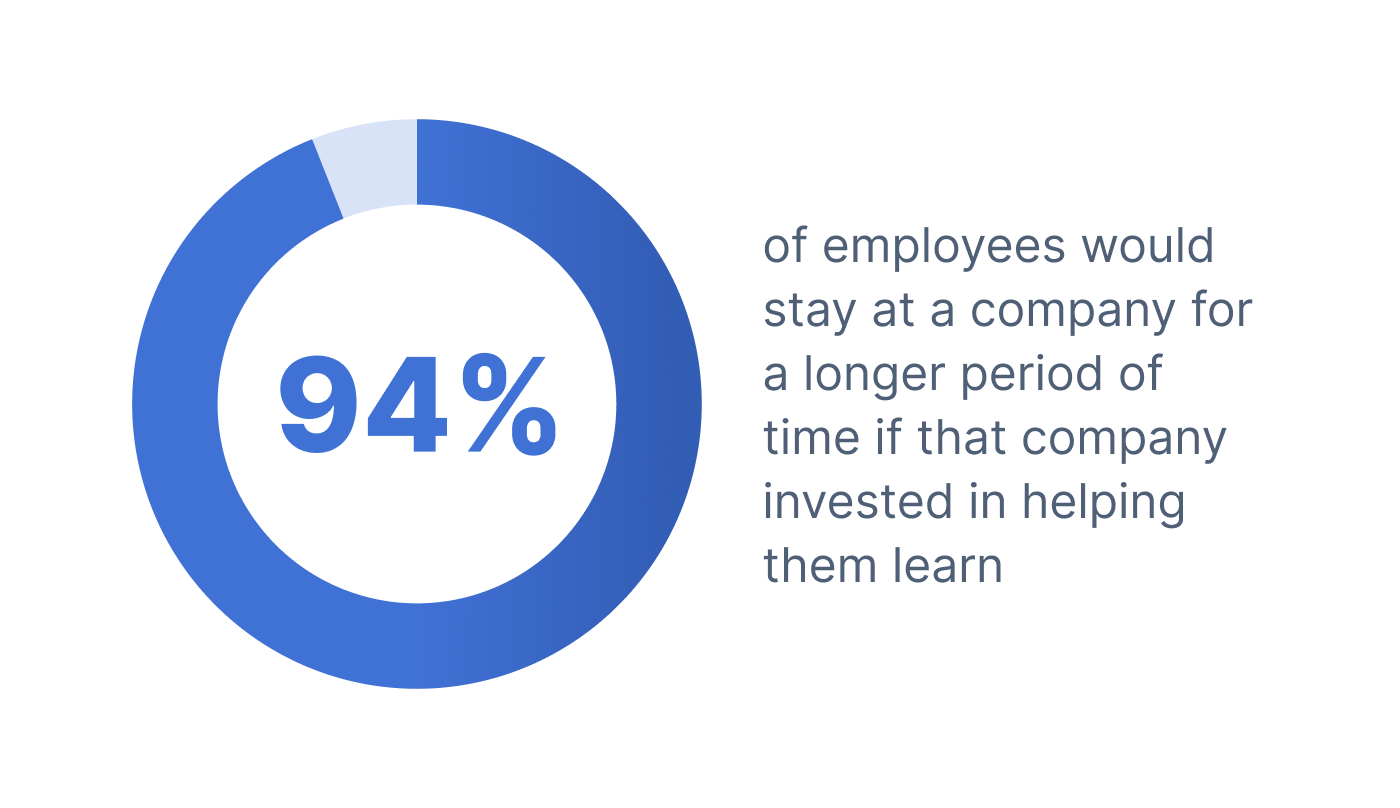 As we near the end of 2021 and look ahead towards 2022, we at Rallyware were intrigued to dive deeper into the latest trends in learning and performance. When it comes to consuming content, where do user preferences lie? In our analysis of distributed workforce behaviors as of late, we discovered some interesting trends – here are some of our key findings.
A mobile-first mindset is driving the user experience
Harnessing a mobile-first approach has always been a core focus of Rallyware's manifesto. In a 2018 article, we offered some tips to improve employee training with such an approach, such as turning mobile devices into data-driven personal assistants.
The mobile-first mindset has flourished over the years, and is on the rise among the end users. Today, mobile web traffic accounts for 54.8 % of global web traffic, while, at the beginning of 2015, less than one-third (31.16 percent) of the global web traffic stemmed from mobile devices.
After investigating user sessions over the last 12 months, we discovered that usage of mobile apps is growing exponentially. Users prefer mobile apps over the web (both computer devices and mobile browsers), and they had 2.6X times more sessions with personalized learning native apps.

We are expecting this trend to strengthen even more, since the projected statistics on mobile use is only growing (In 2021, the total number of mobile users worldwide stood at 7.1 billion, this number is projected to reach 7.49 billion by 2025). Beyond that, learning in the flow of work is gaining power, as it helps to apply what was learned immediately when the need arises. This trend will prove to blend learning and enablement, providing individuals with the right activity that is relevant for them, just when they need it the most.
Smart notifications are leading the way, spurring productivity through re-engagement
Smart personalized notifications, encouraging users to return to the Performance Enablement platform to complete tasks and activities, significantly impact user behavior and deliver noticeable results. Prior analysis from Rallyware pointed to the power of smart notifications – finding that the percentage of completed tasks among users who received but did not open notifications was only 0.1%, yet for those who viewed more than one notification, this indicator increased to 29.4%. Why does this matter? This matters because the number of learning and enablement tasks completed is directly correlated to an individual's productivity.
Our current analysis highlighted the power of such notifications, also looking at the types of notifications that were sent. Interestingly, we discovered that some types were favored more than others.
We found a higher open rate for those notifications related to new badges received (up to 88%), as well as task completions (up to 65%). This indicates that users appreciate being recognized for their efforts (such as receiving a badge for being a 'budding sales pro' following their first week on the job).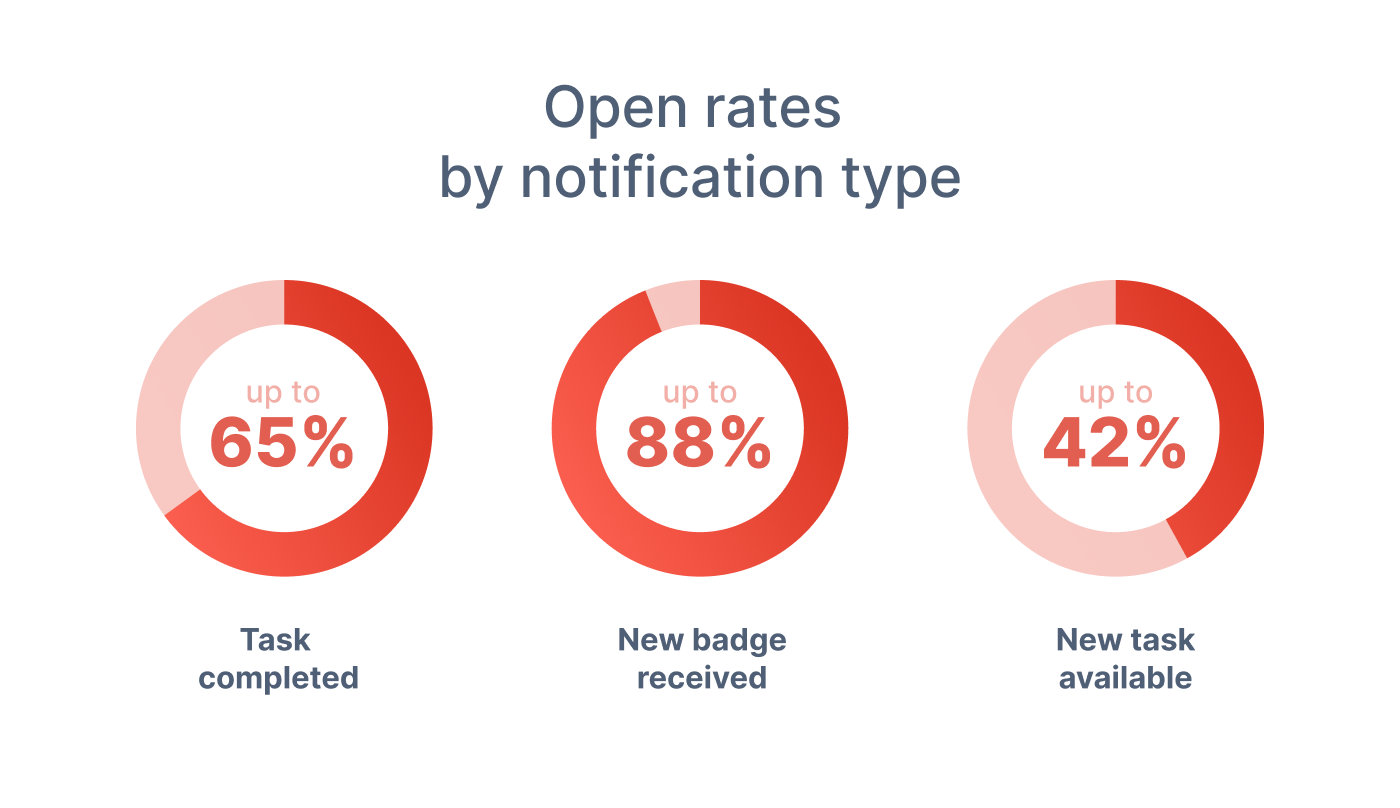 What had an even greater impact for a positive change in behaviors was the level of personalization and the timing of notifications, incrementally driving productivity through those rewards and recognitions that matter most to each individual.
Today, taking a mobile-first approach to the design and delivery of content and materials for distributed workforce members is key, whether this be related to onboarding, training, or the overall employee experience. To retain a competitive edge in a digital age, it is critical to keep up with evolving trends and preferences, and for many, this includes shifting towards a mobile-first approach with smart notifications that trigger just the right activity for each team member.
Read more more powerful insights in the full report, Insights on Evolving Distributed Workforce Learning and Performance Trends!
How can members of your distributed workforce be provided with the right activities at the right time, via smart notifications delivered to their mobile devices? Book your demo to see Rallyware's Performance Enablement Platform in action!
News and Insights on Workforce Training & Engagement
We're among top-notch eLearning and business engagement platforms recognized for effective training and talent development, helping to empower distributed workforces
Subscribe