The Time for Workforce Segmentation By Demographic has Passed – Segmentation Based on Behaviours is the Future
There's rarely been a time when workforces globally have been so poised for fundamental transformation. Despite relentless and rapid advances in technology, finding ways to better utilize and equip our people for the challenges and changes to come is vital. Only with agile, efficient, and adequately trained personnel will companies prosper as roles become less defined and staff need to be more adaptable.
It's not like there's a one-size-fits-all solution to the future either. Productivity and customer satisfaction are delivered by employees primarily. Different staff members excel at different things – and learn best in various ways. Personalized learning can reap massive rewards for companies that invest in it – and investments can quickly turn to profits when a workforce is equipped to produce them.
In this article, we're going to see how looking deeper than demographic profiles is helping successful businesses carve out future workplaces. We'll look at the very real commercial benefits on offer, and examine how attitudes to work, learning, and career opportunities are changing. We'll also take a look at how IBM improved productivity and generated huge profits by taking a fresh approach to skills classification and training.
Here at Rallyware, we believe that it's crucial to understand individual needs and talents so we can empower employees to prosper within and promote more dynamic companies. That's why we implement personalized training technologies driven by individual behaviors. That's because workforce segmentation based on those behaviors, rather than outdated demographic concepts, brings out more of the potential in both your business and your workers. With the right tools, leaders can not only improve business outcomes and customer service; they can create better working environments, boost talent sourcing, and retain their top employees too.
Reversing the Ageing Process: Deloitte Study Heralds Multi-generational Workplaces
Deloitte's recent study provides some fascinating insights on where many are going wrong – but also where it's possible to concentrate efforts when you want to get things right. It's maybe not so surprising that not everyone is ready to change how they approach the business of defining human resources. After all, we're working during transformative times. Yet, no matter how you slice it, how we categorized personnel historically is looking a bit flat when it comes to creating the workers we need for a future that's already arrived.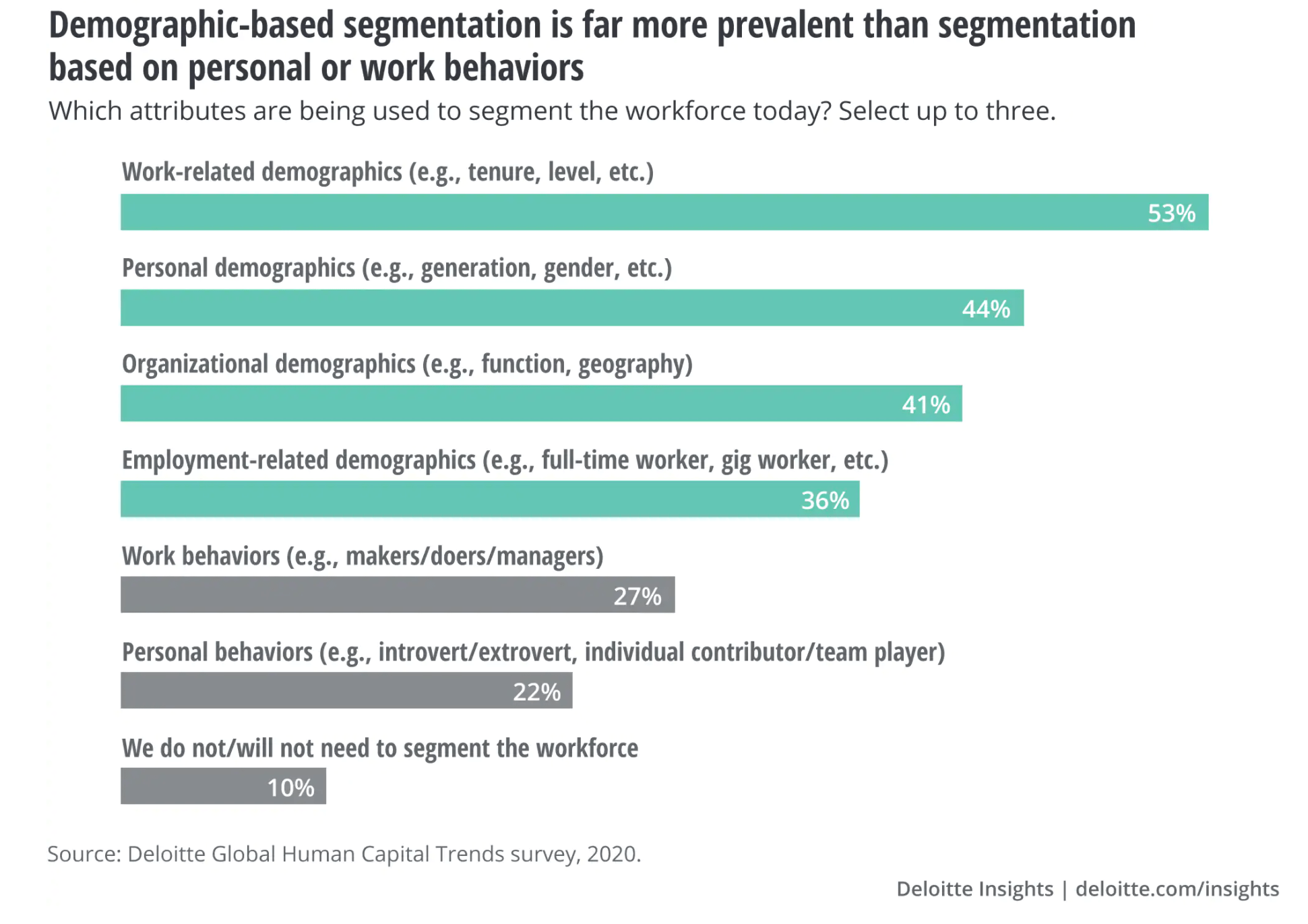 The above graph tells a tale about where we're currently at – yet, that widespread reliance on traditional methods might not be so much to do with ingrained resistance to change. What's probably more accurate is that change isn't always easy. Transforming systems requires some investment – both financial and in terms of time. Changing attitudes can sometimes rely on results becoming apparent.
The truth is, the technology that delivers personalized training is already here. Making learning more meaningful results in workers who can make a stronger contribution to their organization, get a kick out of what they do and, importantly, fit better with company targets. Only when we recognize that employees are individuals – with unique outlooks, ambitions, and skills – can we begin to understand how best they can contribute and start harvesting all that they offer. Workforce segmentation based on behaviors just works because uniqueness hasn't got anything to do with age.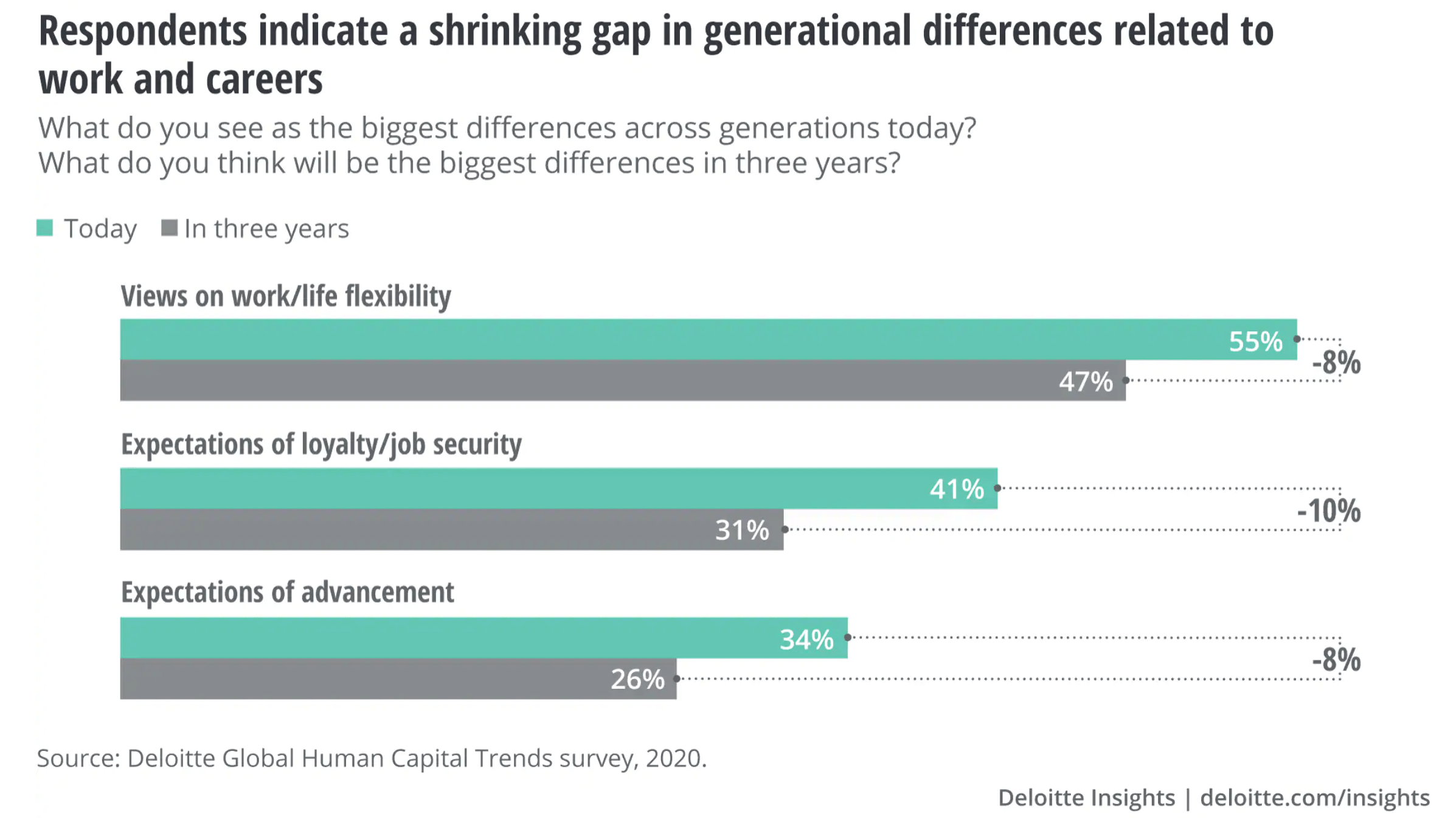 The above graph suggests that attitudes across generational divides in the workplace seem to be aligning. It also illustrates that the respondents perceive a change in how work/life flexibility, job security, and prospects for career mobility get perceived – by employees of all ages. If that's true, then it's logical to think that leaders should acknowledge the need for a different approach to workforce segmentation – even based solely on age. So, what lessons can we learn from what's happening out there right now?
Employee Experience Matters – Personalized Learning for Better Staff Retention and Talent Acquisition
What the Deloitte survey shows us is that segmentation based on demographics isn't working. Not in terms of creating agile companies, but also not for keeping workforces happy:
"49% of millennials surveyed say they would quit their current job in the next two years if given a choice—the highest share in the survey's history. Their reasons for wanting to quit ran the gamut of human capital focus areas: pay/financial rewards (43%), lack of opportunities to advance (35%), lack of learning and development opportunities (28%)"
It seems fair to say that developing a deeper understanding of who workers are will teach us more about what they expect and want from their job. It's hard to look past personalized learning and workforce segmentation based on behaviors if we're to achieve that. When learning is more tailored to individual preferences, talents, and expectations, career development prospects skyrocket. That leads to company culture being perceived as healthy, and talent acquisition becomes a far easier task as a result of that. It also makes for workers who are far less likely to jump ship, and retention rates improve dramatically. In an increasingly competitive employment market, that sort of advantage alone can transform the fortunes of a business.
Early Adopters IBM Made Huge Gains with Redefined Workforce Segmentation Efforts
Change needs to be facilitated by the progressive, and those who change the quickest stand to profit. To have an effective workforce strategy, it's essential to know how different roles affect business outcomes. Learning as much as possible about the employees who fill those roles is vital. As early as 2003, IBM was showing onlookers that transformation is possible – even when your workforce is more than 350,000 strong, and you've been doing things a certain way for decades. Not only that, but the company illustrated the financial and productivity gains on offer – and that return on investment didn't take long in coming.
IBM's Workforce Management Initiative (WMI) was indeed ambitious, but it had paid for itself several times over five years into the project. As the company itself puts it:
"While there were examples of such global human capital integration on a small scale in some areas, no organization had successfully developed a way to provide a transparent view of workforce capabilities and needs that could guide planning, employee career decisions, business leader talent, and strategy decisions, and at the same time be engaging and compelling enough to become a natural part of the management processes."
The focal point for IBM's efforts was productivity, but the plan was that the new system would improve operations right across the board, and have benefits for both the organization and its employees. The company developed its 'Expertise Taxonomy' around principles of individual employee "knowledge, skills, and dispositions or experiences." WMI targeted several key areas:
Talent & Mobility: requires common taxonomy, common profiles for all sources of labor, decision support for optimal labor decisions.
Resource Management: requires accurate inventory of skills and talent, demand forecast, capacity planning, and workforce rebalancing.
Supplier Management: requires supplier strategy aligned with resource management strategy and ability to extend into talent workflow.
Learning: requires tight alignment to business objectives, accurate skills assessments, skills gap management, and alignment with skills development systems and programs.
Advanced Workforce Segmentation and Targeted Training Led to Improved Productivity for IBM
For IBM, a better understanding of its workers led to a more productive workforce, and to easier talent acquisition and mobility. On a global level, decision making became more informed and less centralized, and employees found it easier to move within the company, taking on different roles in different places. By 2008, the financial return was clear:
"As an enterprise business transformation initiative, with a total investment of US$230 million over the course of its five-year business case, IBM received ~US$1.5 billion in benefits from the WMI; US$453 million of these significant benefits were hard benefits, flowing directly to IBM's bottom line."
Boost Employee Experience, Retain Talent Through Personalized Learning
What both the IBM and the Deloitte studies can teach us is how to let go of our outdated ideas about who our employees are – and how we can bring out the best in them. Whether that's within a small business or a large organization, workers perform best when their needs get met, and workforce segmentation based on behaviors – not demographics – can achieve that:
Creating learning programs that are sympathetic to learning styles and preferences can speed up reskilling and make companies more dynamic. In addition, training workers where and how they prefer to learn can improve staff retention rates at the same time.
Recruiting not according to age-related experience but on real-life work experiences and attitude. Creating a more diverse and robust workforce and harnessing an increased number of skills.
Designing systems for career advancement based on individual ambitions, abilities, and preferences – promoting the talents of every worker while enhancing their experience of work. Creating opportunities that encourage a dynamic workforce based on interchangeable skills – producing a more resilient and agile company.
Train Smart, Beat the Competition
Attracting and retaining talent isn't about defining workers in demographic terms; it's about providing personalized training by utilizing a data-driven approach. Today's workforce expects more, and the way to deliver that is by harnessing technology that can look deep enough at individuals to provide real insights. That strategy results in understanding what type of training works best for who – and how employees can help the business reach goals while achieving their own ambitions and fulfilling their own potential.
Workforce segmentation based on behaviors, talents, and aspirations is the fastest route to the future of work – and Rallyware is the vehicle that can get you there. Providing training where it works in segments tailored to the learning style of individuals, based on their preferences, can transform the employee experience. To find out more about how we can help you deliver data-driven personalized learning experiences for your workforce, schedule a Rallyware demo today.
News and Insights on Workforce Training & Engagement
We're among top-notch eLearning and business engagement platforms recognized for effective training and talent development, helping to empower distributed workforces
Subscribe