New Report Highlights What Makes Incentives & Recognition Work
Today, many individuals yearn to be appreciated for their hard work, and know that their efforts are paying off in the long run – 69% reported they would work harder if they were better appreciated. Therefore, it becomes essential for business leaders to tap into key insights such as skills and work habits and get a comprehensive account of their workforces in order to better connect with them. How can members of the workforce receive the incentives and recognition they deserve, which will in turn drive overall productivity and growth?
While many traditional incentive and recognition programs tend to focus on the end goals and rewarding results, this incentives and recognition approach emphasizes motivation for the entire team, and how the day-to-day contributions of each individual make a difference.
Incentives and Recognition: What makes them work
What does this solution look like, in practice? To assess the impact of learning platform on the business performance of customers who use the I&R solution, we analyzed and segmented users based on behavior patterns as well as their interactions with the platform. For this analysis, we used information about the user's platform activity and consequent productivity for the second quarter of 2021. The sample was limited to newly created users within the customer ecosystem in order to look at how smart incentives and recognition impact behaviors of those who do not have an extensive history with the companies.
Users were divided into groups, according to their behavior patterns:
no login – not registered on the platform;
logged in – registered and took no action;
visitor – visited the platform more than once;
beginner – entered the platform more than once and completed one task;
active – logged into the platform more than once and completed more than one task;
involved – logged into the platform more than once, completed more than one task, received and opened more than one notification.
Here are some of our insights:
Task completion and platform visits drive productivity
The more engaged the user was with the platform and the more tasks they completed translated to an increase in sales (an example of a task may include following up with five existing customers who might be interested in a specific new product). Sales from the more active users (visitor, beginner, active and involved) were, on average, 2.1x higher than the sales of those who simply registered on the platform and no longer interacted with it (logged in).
Additionally, more frequent interactions with the platform and the completion of even one task increased the size of quarterly sales by 12%.
Enhanced sales productivity was also the case for those who interacted with the platform solely as visitors. Although they did not perform any tasks, these users visited the platform to view important information such as their individual performance, leaderboards, goals and their standing in reaching those.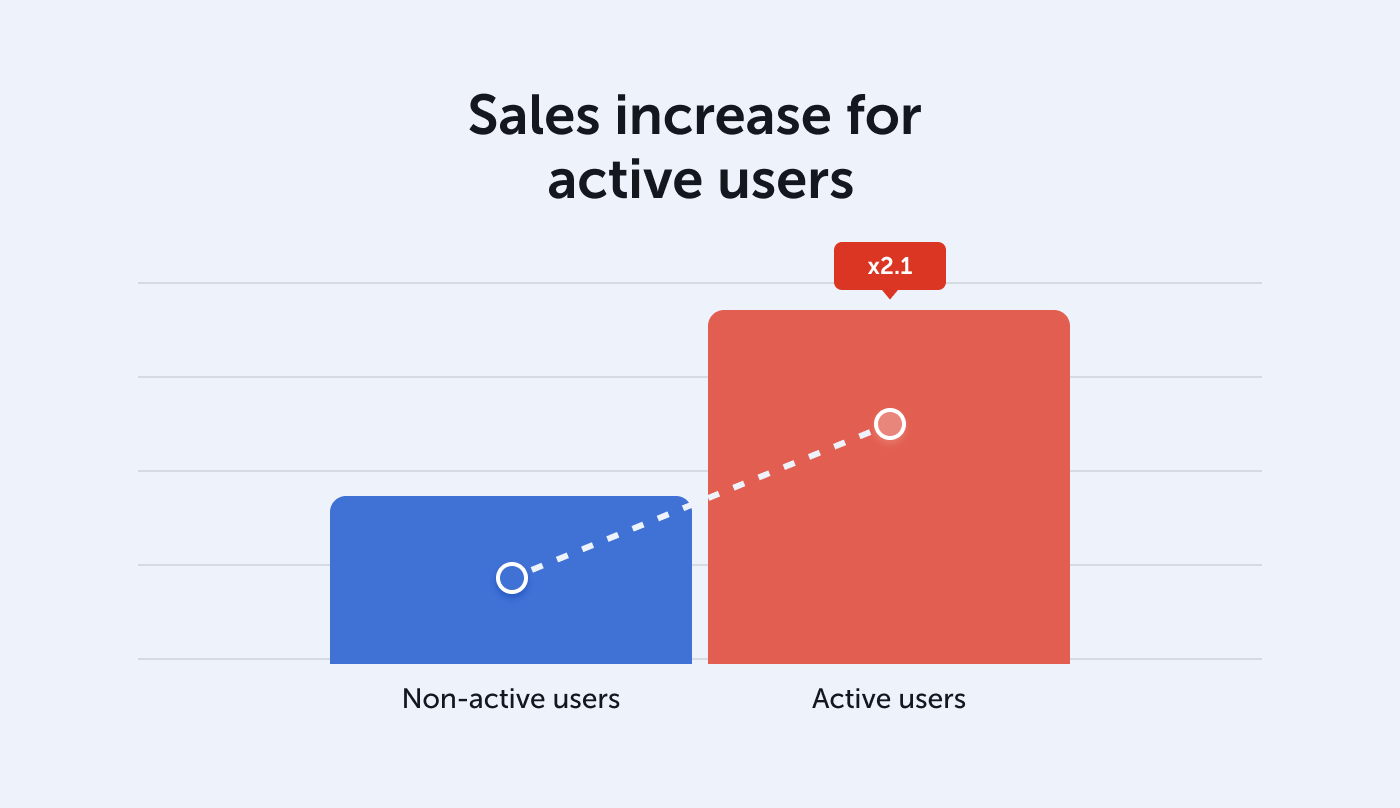 Smart notifications drive sales productivity
Users also receive smart personalized notifications, prompting them to return to the platform to complete those tasks that will lead them towards their goal completions and, hence, result in overall productivity boosts. Having these reminders proved to be beneficial and significantly impacted user behavior – as our analysis revealed that the percentage of completed tasks among users who received but did not open notifications was only 0.1%. For those who viewed more than one notification, however, this indicator increased to 29.4%.
We found that being provided with such triggers allow the user to:
integrate more fully into the learning platform
gain the necessary knowledge for their business growth just at the right time
These insights underscore the power and impact of the I&R solution, and how it can drive performance and productivity. Now, let's dive a little deeper into what this all means, and look at some real-life examples.
The power of visualization…
For many individuals, being provided with data visualization is critical in pursuit of their goals, as it offers context, and communicates information in a simple and effective way. The I&R solution features personalized widgets and live leaderboards that highlight results and overall user standing. Such tools answer key questions such as how one compares to their peers, where they stand in terms of their personal goals, and what should be their next steps in the journey to achieve those goals.
In addition to displaying important data such as goal progression, dashboards also display prizes to be won, such as gift cards, trips, or merchandise. This visual tool inspires results: with this incentive, individuals are able to view their progress, are provided with suggested next steps and encouraged to go the extra mile to unlock cool rewards (and engage in some friendly competition with colleagues – can I beat Frank and win the espresso machine to have more energy in the mornings next quarter, and even beat Tom then)? Our findings from this analysis demonstrate the power of such visualization – simply being provided with clear visibility into their progress served as additional motivation for users, which in turn, converted to an increase in business results.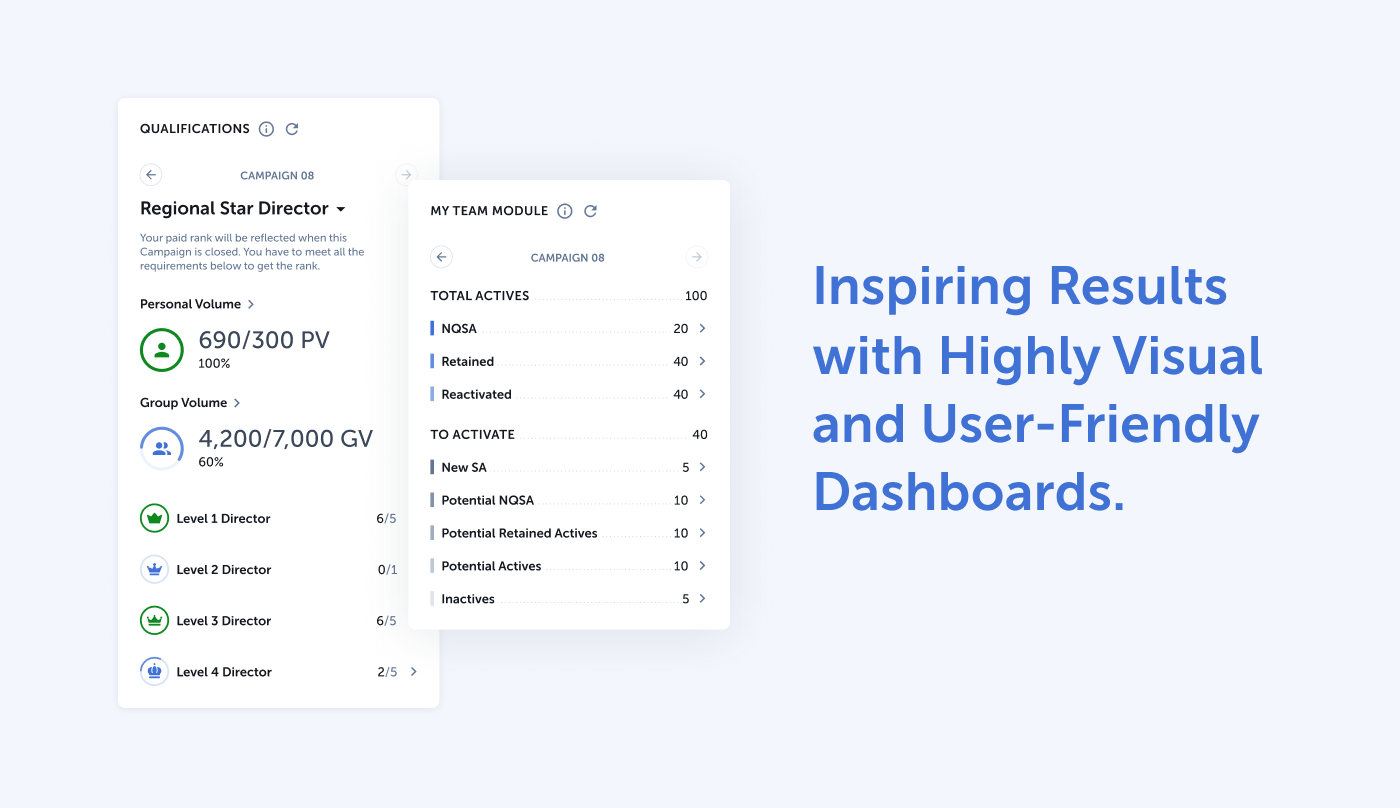 …and personalization
Timing – as well as personalization – are key. How does personalization result in improved performance, productivity, and ultimate business success? Driven by live people analytics, areas for improvement are automatically identified, and changes in behavior are driven by prescribing personalized activities. With the I&R solution, the right personalized activities are triggered and delivered to the right individual, and at the right time.
This analysis found that when individuals are provided with regular reminders of next steps towards success, desired changes in behaviors will follow, as well as noticeable results. To make a real impact, such triggers should be highly personalized and be based on the individual's pre-set goals as well as current progress. For instance, a sales person may be reminded to follow up with a potential client after an initial sales call, or that they are four days away from reaching their monthly sales goal. Having that little boost of encouragement to perform a certain activity, and at the right moment, will drive both awareness and business results.
Click here for your demo and see how Rallyware helps enterprises with large sales forces cut expenses, drive revenue, and transform operations.

News and Insights on Workforce Training & Engagement
We're among top-notch eLearning and business engagement platforms recognized for effective training and talent development, helping to empower distributed workforces
Subscribe