How L&D Leaders Calculate the ROI of Employee Learning and Development Initiatives
Today, a strong emphasis on employee learning and development is crucial, and to meet current and future demands, there is a need to invest in reskilling and upskilling initiatives. Yet, how can you measure the effectiveness of such initiatives? After investing time and effort into learning and training programs for employees, how can we ensure that such initiatives translate into long-term positive behavior change for individuals and growth in KPIs for the company? Curious to dive deeper, we at Rallyware turned to several Learning & Development (L&D) leaders for their insights. Here is what they had to say.
When developing an employee learning and development program, begin with looking at the entire ecosystem
"Over the last 10 years, I have been incorporating new methods and measures as part of the shift from traditional L&D to transformational continuous learning and performance," said Joe Dunlap, Director of Learning & Development at Toppers Pizza, Inc. "The measures I now use are tied to the method(s) used to develop the solution, the impact of the solution on the surrounding ecosystem and the methods used to deploy the solution."
Joe talked about various measures used in a previous work situation, in which he was tasked to develop a training program for the learning of new tech skills. These measures included design thinking – which considers changes in hard measurable outcomes, engagement measures, social media measures. These are then "factored into the lifecycle of the continuous learning and performance improvement effort."
Based on his extensive experience, Joe has found that training leaders need to work closely with key business stakeholders to determine outcomes and metrics, this may include working alongside representatives from HR, Marketing, and Communications in a series of workshops to empathize with the customer and develop appropriate solutions. Such cooperation helps not only to better understand the goals of the L&D initiative, but also to set up common metrics accounting for various impacts that the initiative is designed to have.
He also pointed to the importance of understanding the entire ecosystem, and taking additional aspects of the work environment into account. "I was confident I got the learners to a state of 80 per cent readiness, but because I did not know which team they would join, under what leadership, and what types of work they would do, there would still be learning that occurred after the course ended," he said. "We had to address things like team culture, leadership culture, work technology, work processes and the like because these were the things the learner would also have to learn in order to work."
When developing an L&D program, it is critical that you think broadly enough, taking into consideration a range of current business goals, as well as anticipating upcoming company needs and market changes. Bruno Fournet, HR Director, Center of Excellence Learning & Development at Disneyland Paris, has a similar idea – in looking ahead to the end goals, and considering other factors. He emphasized the importance of setting up metrics that align with business KPIs, as well as tracking those KPIs over time.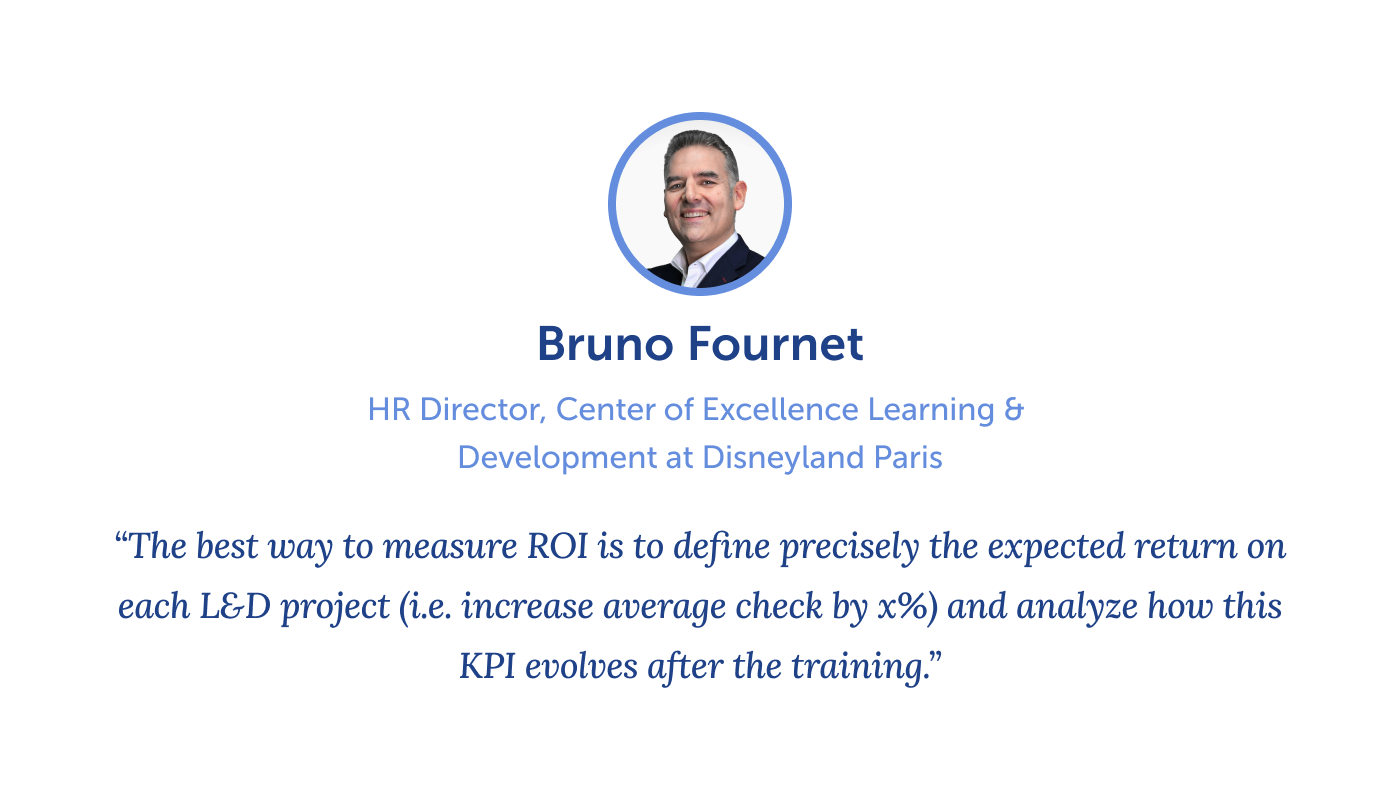 Putting people first: concentrating on the customer or the learning audience
Sometimes, desired outcomes of employee learning and development programs may be as simple as community involvement, connection and community growth. Karen Valentine, Manager Learning Portfolio Program Owner, Global Learning & Development at Microsoft, manages a peer-to-peer community learning program for all managers at Microsoft, one that is led by managers. While learning impact matters, it does not come first, for her team. Rather, the needs of the audience come first and foremost.
"We have an audience-centric design, where we surface front of mind tensions for managers and then create space for managers to come together to discuss and share experiences and challenges," she said. "While we still use the typical quantitative metrics like consumption, satisfaction, and net promoter score, the real magic comes in the form of qualitative feedback and community engagement in the sessions."
Karen cited an example, when a recent listening mechanism showed that managers were dealing with a large range of demands around workload, hybrid, and organizational change, and the community sessions were accordingly focused on creating the psychological safety for candid and supportive conversations.
"We intentionally didn't include a knowledge check on whether the learner remembered the content, that wasn't the point," she said. "Instead, we focused on building connections before content in the session, to allow vulnerable and real conversations to emerge…we are rethinking post-session engagement and behavior change, including if someone's network (and network diversity) grew as a result of these community sessions. Our outcomes that matter are sense-making and community, and our greatest indicator of success is the growth of our communities."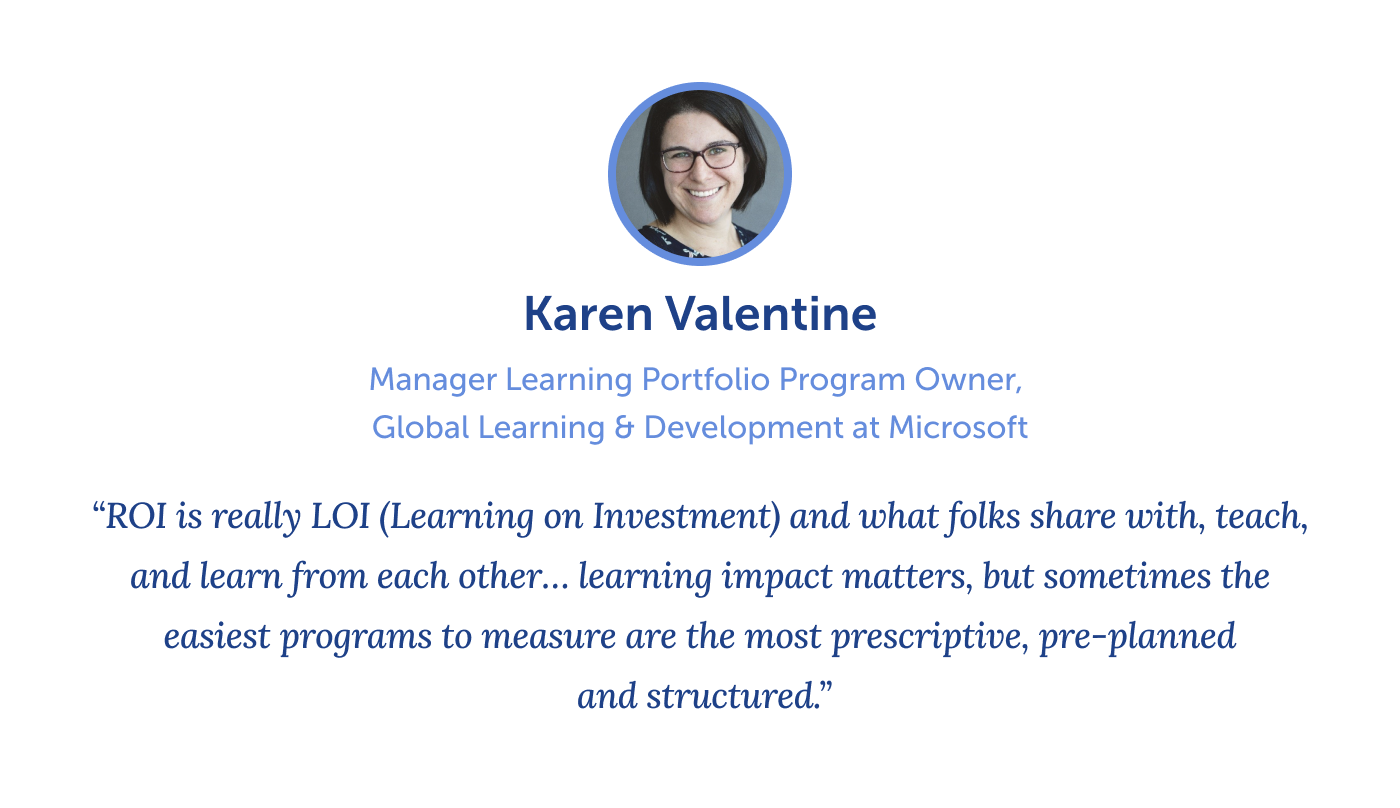 Alternatively, perhaps the focus is primarily on the customer. As a Learning and Development Manager at Amazon working on the operations side supporting Amazon's logistics department, Marela Klepo and her team concentrates on working backwards, with customer experience as their core focus. "When we look at a business problem such as how to train our leaders or our workforce, we first ask ourselves who is our customer, why is this important to them and how are our training programs and the ways in which we implement them going to add value to them," she said. "When we build a training program, we first ask those questions." Is it going to improve the overall customer experience?
When talking to Arpitha Shirivanthe, Learning & Development Specialist at Sanofi Pasteur, she stressed the importance of looking at proficiency, when it comes to measuring ROI. 'There is no one size fits all' for quantifying ROI," she said. "L&D can derive those [financial] metrics by using the formulas, evaluation happy sheets, trend line analysis, control groups and impact studies, but I think the need of the hour is for employers to understand that the logical proxy for measuring ROI is proficiency."
Defined as one's competence capability, she explained, proficiency aids in assessing and identifying the knowledge/skills gaps of employees. "The faster organizations can improve proficiency and accelerate behavioral competencies, the more they can drive performance and prove the ROI of their L&D programs," she said.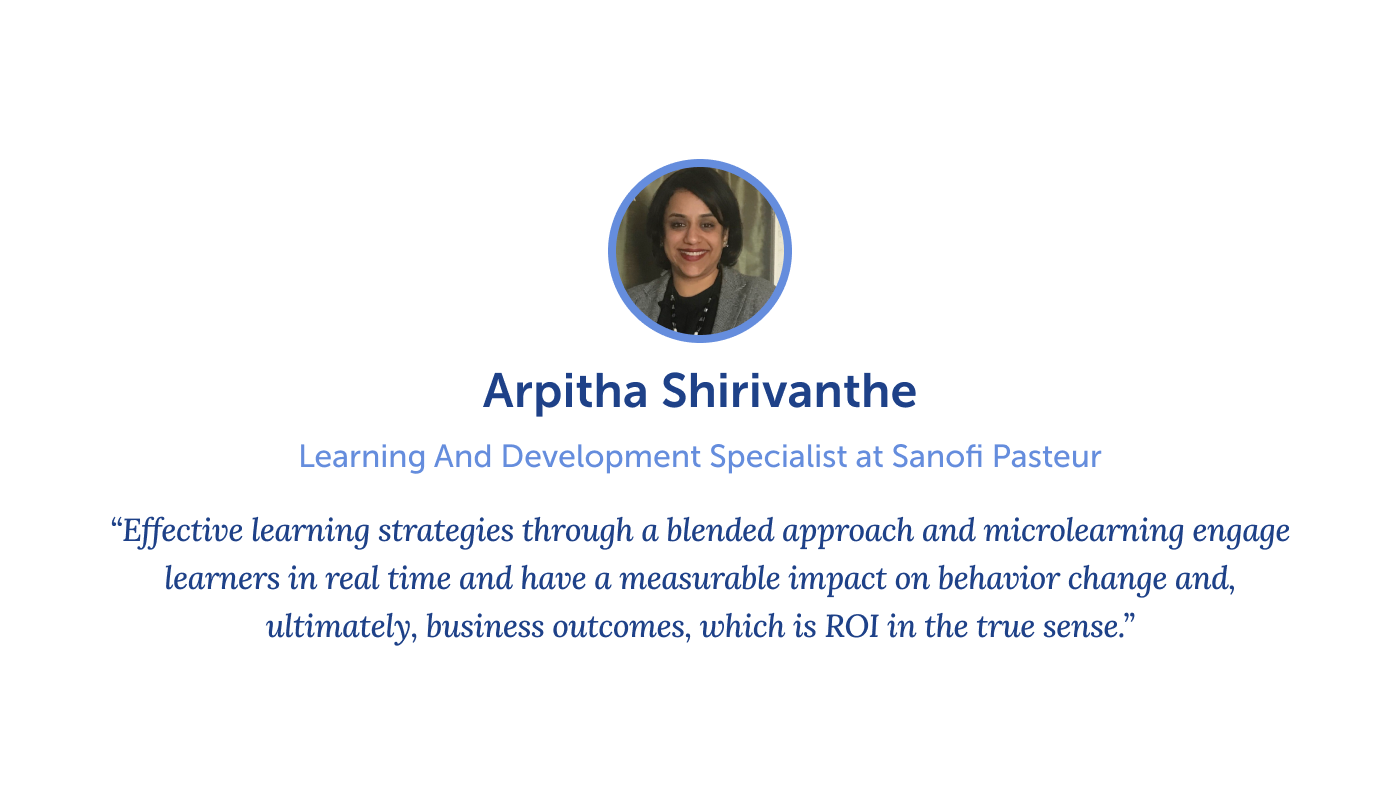 Going beyond the classroom – focusing on the impact of learning through observation
We live in a different world, and focusing on the impact of learning solely in the context of the traditional classroom environment is not always going to be feasible in this day and age. Rather than participating in a one-week training course in a classroom environment, for instance, Marela pointed to the rise of self-led, hands-on learning as well as learning on the job, as modern programs such as personalized learning enter the picture. "If [learning] is more hands-on, it is a lot easier to measure and track through observation," she said. "If something does not work out, we take a step back and look at it holistically."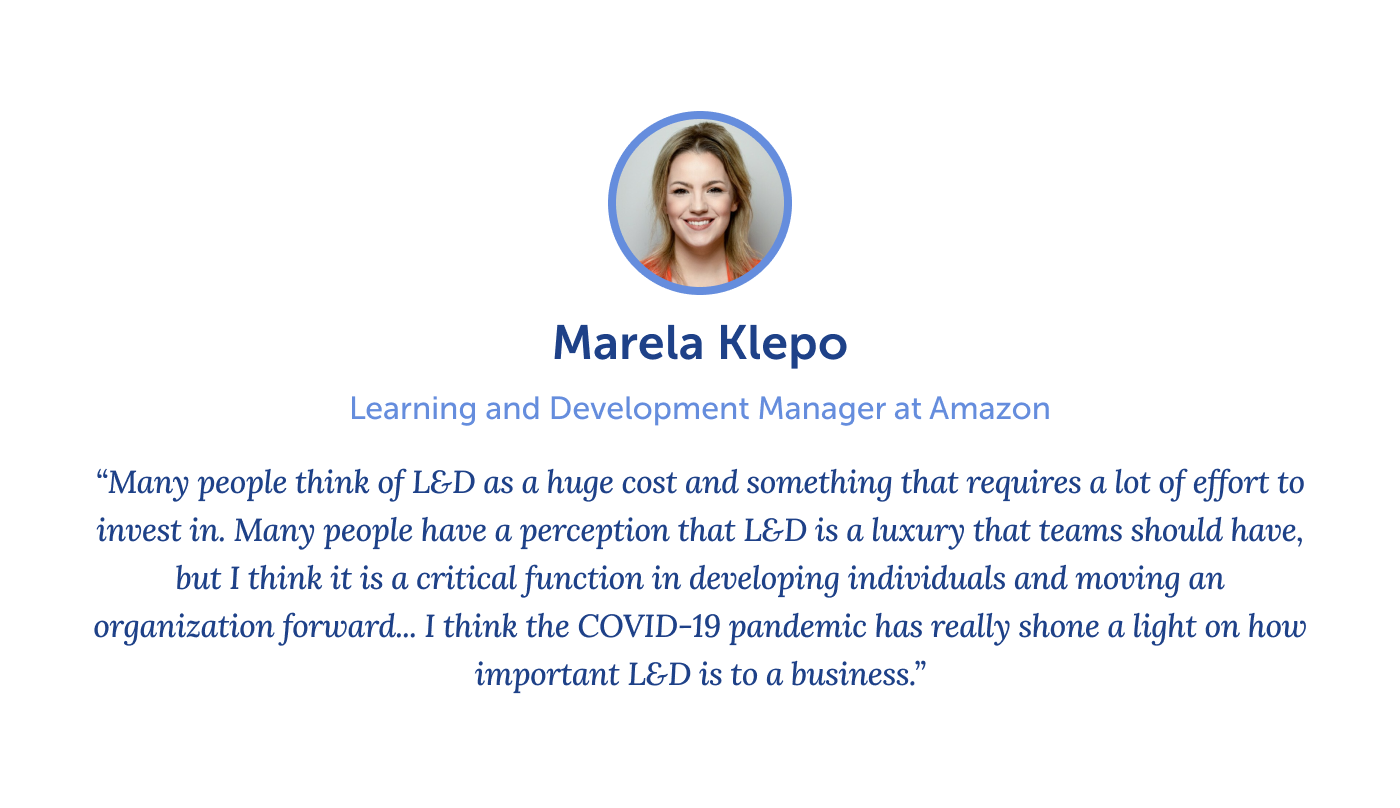 For training leaders, Marela suggests observing and tracking the behaviors of their team members. Such continuous analysis will allow them to track whether they see improvements over time. "In a class, we often focus on teaching people with the hope that they will eventually be 100% competent in all their skillsets, so it's really about engaging your teams and the leaders who are part of your organization."
When it comes to employee learning and development, it all comes down to driving performance and productivity, as well as proficiency, and designing L&D initiatives with these end goals in mind. As we noted in a previous related article, "to make L&D efforts efficient and measurable, you have to help your people perform better." Whether that may be through community sessions described by Karen, in-person, online or hybrid training, it is critical to focus on "developing people's skills so they are better positioned to achieve their targets and their own goals, so that they can continuously grow," Marela emphasized.
To see how Rallyware drives distributed workforce productivity, request a demo.
News and Insights on Workforce Training & Engagement
We're among top-notch eLearning and business engagement platforms recognized for effective training and talent development, helping to empower distributed workforces
Subscribe