Samsung's Climate Superstars Program connects action to impact
Earth Day is all about taking action. With more than one billion people now participating in Earth Day activities each year, it has become the largest civic observance in the world and the perfect time for Samsung and Rallyware to unveil the Climate Superstars Program – a unique and innovative approach to environmental education.
Making it Real with Key Learning Strategies
According to the Green Changemakers, key learning strategies for environmental education, citizenship and sustainability help students "connect the dots" for an interconnected world view. The most successful strategies promote student engagement and action and include:
Learn locally: use the classroom as a model for community
Follow integrated learning techniques
Act on learning and work towards a desired change
Make real-world connections to the learning
Consider alternative perspectives
Enhance inquiry
Share responsibility for the learning
Using Interactive Technology and Gamification to Enhance Learning
Recognizing the increasingly important role technology is playing in education, Samsung teamed up with Rallyware and the U.S. Environmental Protection Agency's (EPA's) Energy Star Program to build a technology-based, interactive program with gamification functionality, incorporating these key learning strategies.
This program – the first of its kind – was offered through Boys & Girls Clubs of America (BGCA). It took place over seven weeks leading up to Earth Day 2015. In that time, more than 1,000 students in clubs throughout the United States and military bases in nine different countries participated in the program.
Hands-on Activities and Social Engagement Keep Students in the Game
Each week, students aged 11-13 would receive a set of tasks to complete. The first week's tasks involved mostly reading and discussion of educational content tailored for kids, so as to provide a foundation for the more active learning to follow.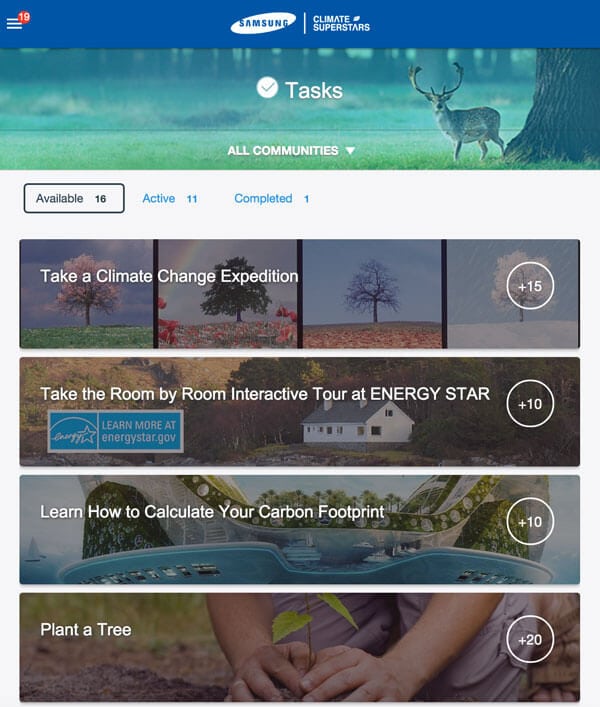 After the first week, the tasks became more hands-on, encouraging students to create something tangible or do other real-world activities. Each task had points assigned to it, building a basis for gamifying the program. Every group of students was assigned the same task. Most were predefined activities: by planting trees in their communities or visiting local power plants, the kids made critical connections between what they learned in the classroom and the real world.
The program also included plenty of "design-your-own" tasks such as brainstorming ways to reuse household items. These tasks enhanced creative thinking and allowed students the opportunity – and responsibility – for self-directed learning.
To keep students engaged, Samsung awarded group prizes throughout the time of the contest to teams with the most points. Three rounds of prizes helped build and maintain excitement and momentum in participation, leading up to Earth Day and its Grand Prize of more than $20,000 in Energy Star-qualified Samsung products: tablets, Chromebooks and smart 3D TVs.
The program was highly interactive, allowing young Climate Superstars all over the world to share their ideas and the new perspectives with each other online and fostering fun and friendly competition.
After completing each task, boys and girls were asked to collaborate on fun reports describing what they did and learned. Students also received weekly updates from Rallyware filled with engaging graphics to illustrate the collective impacts of their activities.
Exceeding Expectations with Measurable Success
Rallyware also managed and measured student involvement throughout the seven weeks. Samsung established goals for the program based on environmental education efforts the company had sponsored in previous years. The program exceeded all of them. Twice the number of clubs expected to participate registered for the program; more than 1,600 challenges were completed, and student teams completed 86 percent of the challenges they have started.
Based on the success of the Climate Superstars Program in 2015, Samsung was awarded the ENERGY STAR Partner of the Year 2016 – Climate Communicator Award.
According to Eve Respess, BGCA Director of Character and Citizenship, "The program more than doubled our historical participation rate in environmental project, energizing the clubs almost immediately. This engaging technology also led the kids to involve other club members, parents, family members and people in their communities – making the impact even greater!"
There's no doubt about it – kids today are plugged in. Educators are hungry for technology-based approaches that can reach more kids and enhance their learning through interactive content and gamification. With programs like Climate Superstars, they now have a new model for this kind of learning – a high-tech program that connects action to impact for students, taking their environmental education out of the traditional classroom and into the world in which they live.
Click here for your demo and see how Rallyware helps enterprises with large sales forces cut expenses, drive revenue, and transform operations.
News and Insights on Workforce Training & Engagement
We're among top-notch eLearning and business engagement platforms recognized for effective training and talent development, helping to empower distributed workforces
Subscribe