Insights from L&D Leaders: Top Training Tools for Employee Learning & Development in 2022
With 2021 almost in the rearview mirror, it is time for business leaders to consider the key tools that will help to set themselves and their learning departments up for success, come 2022. This past year, amidst a changing landscape of work, strategies to employee learning and development have also had to evolve. What are the most important new skills needed for tomorrow's learning and training leaders, including the most important tools, as we look towards 2022? Posing this question, we turned to three L&D leaders for their insights.
Tools to use when designing employee learning & development programs
One thing remains clear: an emphasis on personalization is necessary, to lead learners toward what they need to know and to reinforcing that knowledge in their daily work. For Rallyware, taking a data-driven approach is key to everything we do, and, when it comes to employee learning and development, an integration of performance and employee training data is key. Such an approach allows one to determine what skills employees need most at a certain point of time, for learning experiences that are more personalized and relevant to each learner. Additionally, the performance of employees is measured prior, during and post-training, in order to gauge whether the training has led to the desired business results. For many professionals, data is also important, as research has shown that ​​45% of chief learning officers use performance data to evaluate the impact of training.
For Jenny Hill, Associate Director, Learning & Development at Sun Life, an emphasis on data analysis tools is also key. "We have tons of data and feedback at our disposal, and being able to analyze and visualize this data helps leaders to tell the story behind a learning experience from multiple perspectives," she said. "The most successful learning leaders will be able to use this data to support more effective business decisions."
It is also important to master skills in video conferencing as well as video editing, she noted, as both will continue to play key roles in workplace learning and collaboration.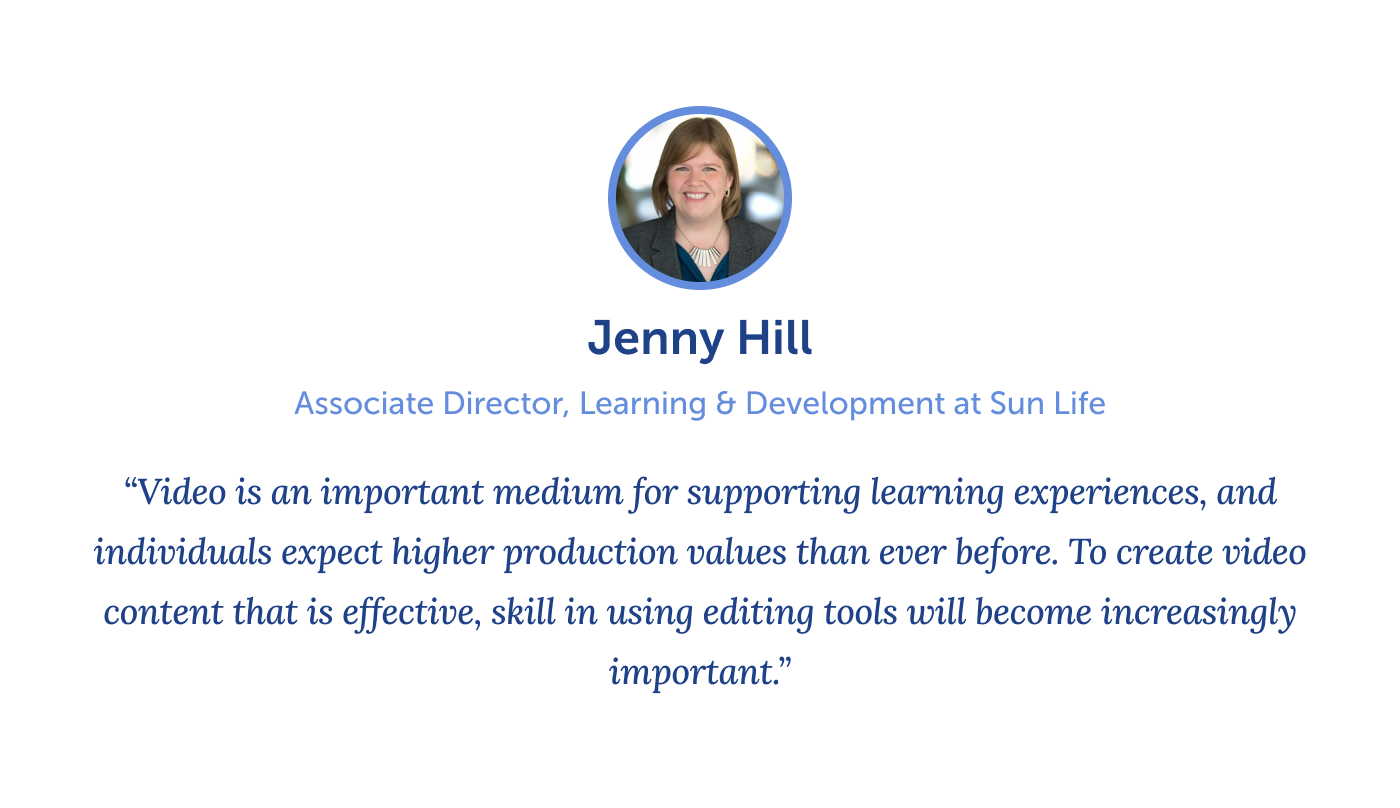 Sheila Austin, BlueCat's Senior Director, Learning & Development, sees well-integrated Learning Management Systems (LMS) as remaining important, as we move into 2022. "Having a centralized place to provide learning for team members is imperative to success, from onboarding, to becoming aware of changes in the business for all employees," she said. "This has become even more important in the post-COVID world, as many organizations move from remote to a hybrid workforce."
Additionally, having a strategic group of learning subscriptions available for employees to leverage to enhance their learning is key, as are engagement tools such as Slido (an interaction tool for hybrid meetings) or Mentimeter (an interactive presentation software), to engage learners and grant them the ability to share their thoughts and ideas with the larger group.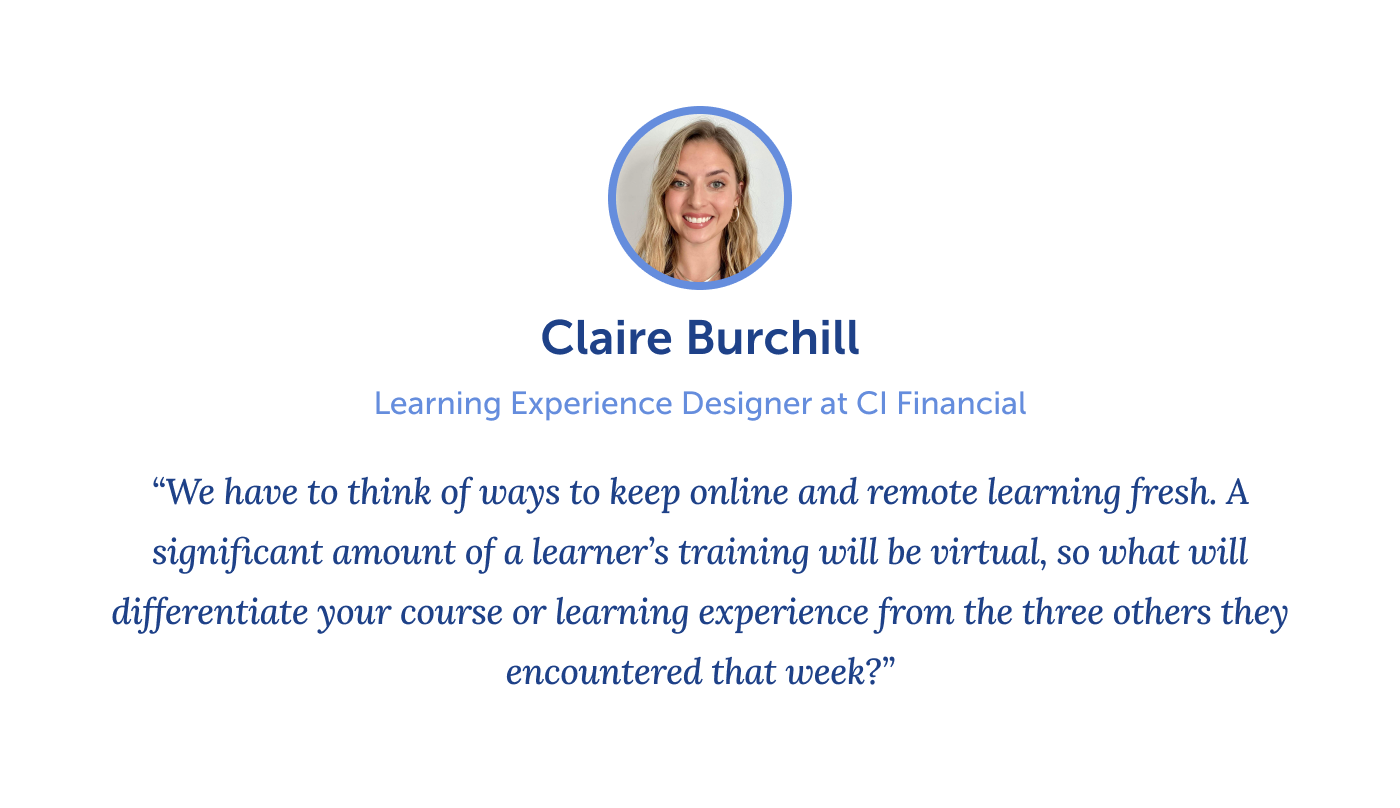 Designing learning experiences for the digital environment of today and tomorrow
When thinking about the development of a largely remote workforce, it is becoming necessary to design for the digital environment. How are we going to design learning experiences, today and into 2022? When it comes to designing learning experiences, Claire Burchill, Learning Experience Designer at CI Financial, pointed to social media as an excellent source of inspiration. "I think looking to social media is a fantastic way to think of new ways to teach others," she said. "Enter TikTok with your learning hat on and it's amazing what new video ideas you can come up with. Social media trends change faster than learning trends, so look to them to stay fresh and engaging."
In support of CI Financial's digital transformation efforts, Claire recently created a "personality quiz" for employees, similar to BuzzFeed's popular quizzes, which determined an individual's level of digital mindset. "Engagement was high on this piece and I haven't heard of many learning designers taking this approach. At the end of the quiz, learners were informed of their digital mindset level, the "bio" of the mindset, and what they can do to level up their mindset."
The design thinking approach emphasizes putting learners' experiences ahead of training content. With feedback from employees, combined with real-time analytics provided by a learning platform, L&D leaders can then offer training material that is more meaningful and relevant to individuals. "Going into 2022, it's increasingly critical that we design learning experiences with the audiences we are looking to serve, rather than for them," Jenny explained. When looking at designing such experiences, including the intended audience in the process helps to ensure that the experiences created are effective and engaging for them.
When designing training for managers at Sun Life, for instance, she looks to managers for their input during the design process, to ensure the solutions proposed are aligned with their needs. "That input is critical to the success of any learning program," she noted.
"I anticipate more and more usage of agile and design thinking methodologies to develop, release, and iterate on learning experiences," she added. "With digital learning experiences, [I anticipate] more data to help us determine which approaches have the most learning impact."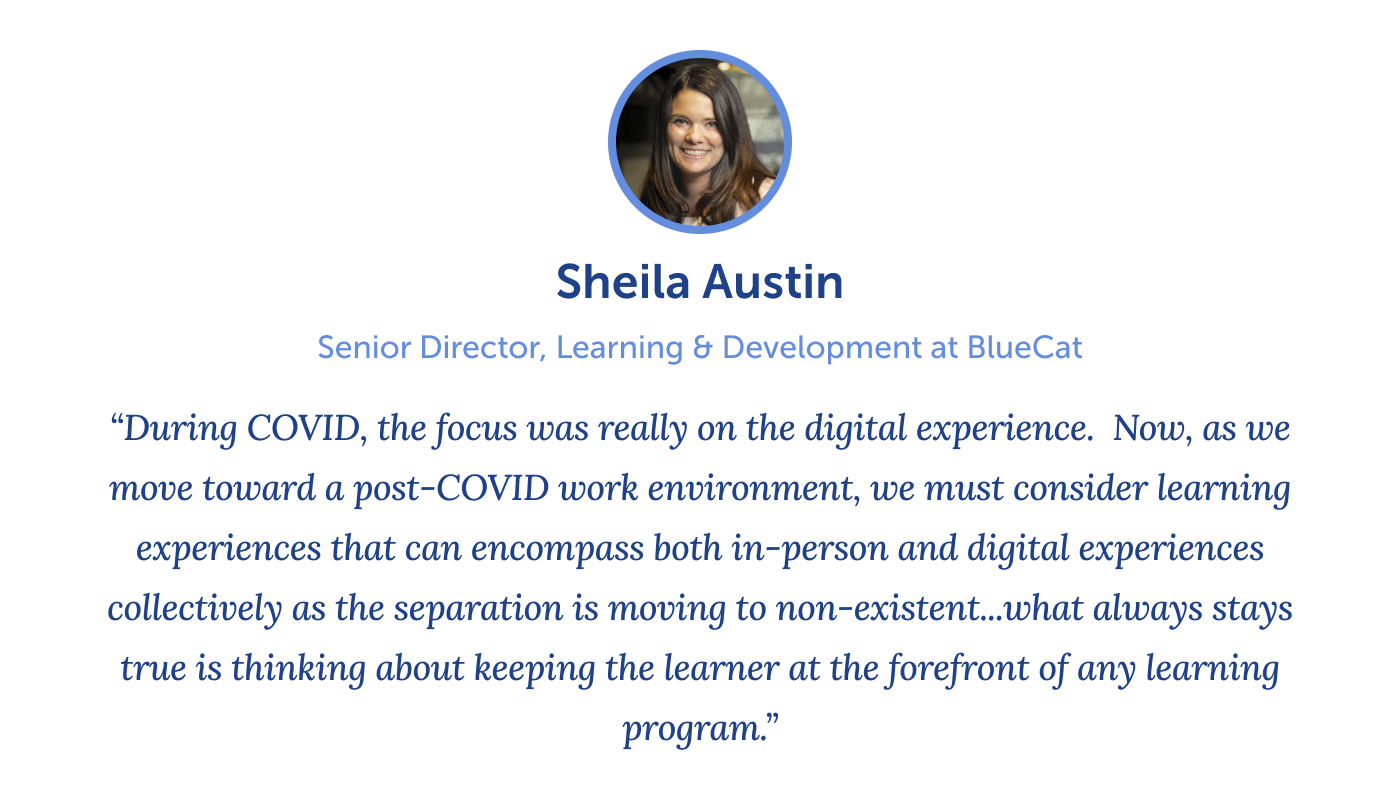 The COVID-19 pandemic has forced leaders to look at the broader learning ecosystem, and consider alternate learning and training routes. While, prior to the pandemic, many learning experiences were designed for either a digital world or for in-person, we now need to focus on designing experiences that encompass all possibilities, emphasized Sheila.
See how Rallyware's Performance Enablement Platform can help prepare your organization for 2023 and 2024, with personalized learning and engagement programs for employees, interactive tasks and more!
News and Insights on Workforce Training & Engagement
We're among top-notch eLearning and business engagement platforms recognized for effective training and talent development, helping to empower distributed workforces
Subscribe