New Avon's Success with the Distributed Workforce Onboarding
Women didn't get the right to vote in the US until 1920. But you know what they did have the opportunity to do prior to this, in fact 34 years prior…They could create a business of their own, grow that business in line with their goals and desires and consequently earn their own income. Thanks to Avon and what its innovative business model represented, women across the country started to feel that sense of empowerment, such that would only grow stronger.
Today, New Avon is still inspiring thousands of distributors while helping them grow their businesses. As with anything, New Avon has had to evolve with the changing times. In this digital day and age failing to modernize will ultimately make any business obsolete. New Avon recognized this; they had the foresight to see where the weaknesses were. Most importantly, they proactively sought out a solution, one that enabled them to more effectively train, inspire and onboard both new and existing distributors. Truly exciting stuff for a company that is over one hundred years old!
The Challenges of Distributed Workforce Onboarding
Imagine a company whose workforce is distributed all around. How do you possibly ensure that everyone's onboarding experience, everyone's introduction and learning are custom-tailored specifically to them? Off-the-shelf approaches to direct selling training are so ten years ago. Not with distributors coming in who all have completely different socio-economic backgrounds, business building experience levels, and social media presences.
As any well-established company with a large distributed workforce, New Avon ran into issues as far as training materials not being housed in one efficient and cohesive platform. Besides that, they encountered challenges in regard to the new distributors being able to incorporate the training into their already busy lives. Not to mention, distributors weren't effectively applying what they learned as behaviors remained fundamentally stagnant following a relatively lackluster training method. They needed to stop the scattered approach and come up with one powerful way of learning delivery in order to successfully change distributor behaviors.
As Steve Jobs once said: "A homerun is better than two doubles." New Avon definitely needed a distributor training and engagement homerun.
Shortcut to Success: A Personalized Experience to Change Distributor Behaviors
Teaming with Rallyware, the direct selling giant segued from an approach to distributed workforce onboarding that was stuck in the past, to one truly representative of the future of work and growth of the gig economy. No longer were their distributors saddled by huge blocks of information and long-form learning that simply wasn't getting it done—nor, incidentally, holding their attention all that well. Shortcut to Success was thus born.
Developing a training program, Rallyware was able to help the New Avon team completely redefine the way in which they handled distributor training and engagement. It became more about the individual distributor and what appealed to them, what clicked with them and subsequently, when they had time and availability to access the eLearning platform. It seems a no-brainer that this type of personalized system gets far better results than lengthier and less inspired approaches.
Shortcut to Success integrated gamification features, microlearning tools, along with a completely streamlined and comprehensive Digital Library, enabling distributors to quickly and easily access any topic, from how to best leverage social media, to the ABCs of setting up their online store.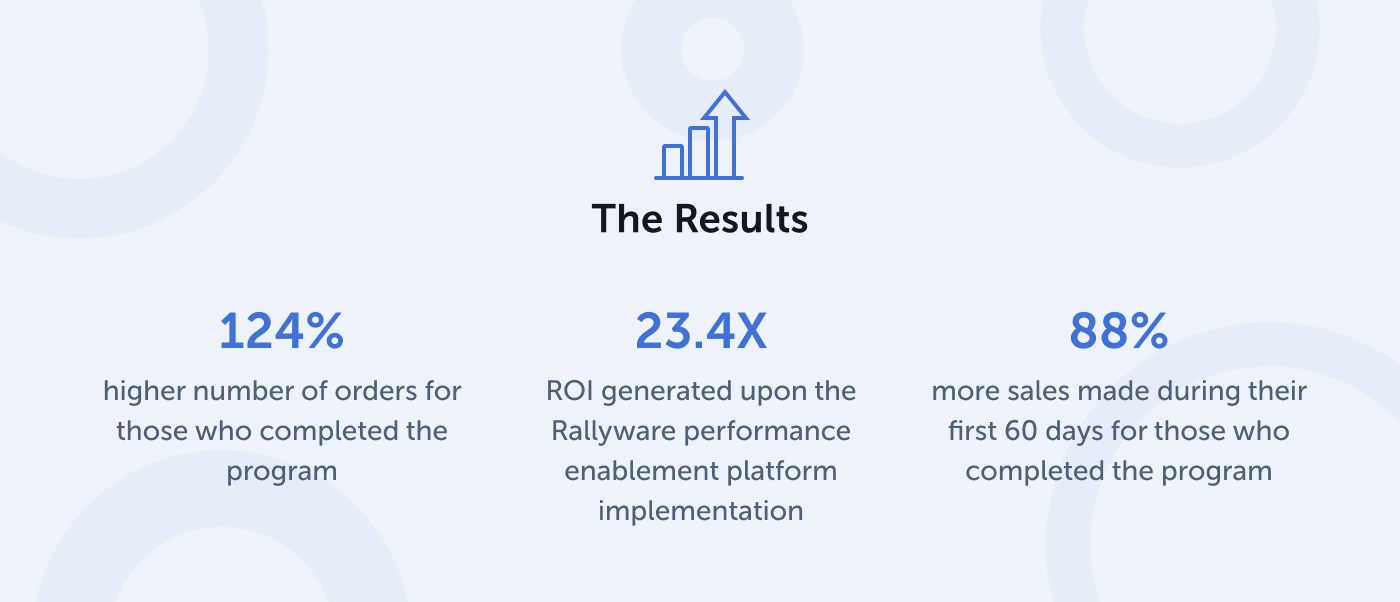 The Future of Direct Selling is Personalization
According to recent statistics, direct selling is a near 50 billion dollar industry with almost 1 million active businesses in the US alone. Finding relevant and effective solutions when it comes to distributor training and engagement is fundamental to the success of any such business model. Looking at what New Avon accomplished in just the first six months proves that this type of personalized, smart training approach not only changes the game in terms of results but those who participate demonstrate a notable shift in behavior as well, as the data-driven system is also tied to a distributor's personal goals. This is so critical when it comes to those intangibles: motivation, inspiration, and that innate sense of self-empowerment. And then, of course, the numbers certainly do speak for themselves.
For those who completed Shortcut to Success, the number of orders was 124% higher than those who did not.
For the reps who completed the program within the first sixty days, they experienced an 88% increase in sales.
The program generated a 23.4X ROI for New Avon company
The phrase "the numbers don't lie" is well-used for a reason. And again, it's about more than just incredible results like those noted above. We strive to help businesses create more meaningful learning experiences that not only serve to bolster their production and their bottom line, but also enable reps and distributors to realize their own significant business growth.
If you'd like to learn more about the Rallyware platform and how it supports companies like New Avon in their growth talk to us.

News and Insights on Workforce Training & Engagement
We're among top-notch eLearning and business engagement platforms recognized for effective training and talent development, helping to empower distributed workforces
Subscribe