Direct Sales Training Tools: Top 18 LXPs 2022
In January 2022, 4.3 million people quit their jobs. Though that's a staggering number, it could represent an opportunity for direct sales. In fact, it's quite possible that many of these people will be open to direct sales and the gig economy. Of course, the trick is to figure out how to keep them selling and growing once they get off the ground.
In terms of retaining your sales force, research shows that the right training at the right time plays an undeniable role. As a matter of fact, distributors make progress with new training and knowledge. As a result, they then become more likely to further their journey in direct sales. The question is how to engage and evolve your workforce–and the answer lies in finding the right technology.
Understanding the Top Corporate LXP Systems
Learning experience platforms, or LXPs, make it easy to engage distributors where they are and show them that their growth journeys are in their hands. No longer do you need to spend hours planning out enormously complicated training programs, either. Strong LXPs facilitate, automate, and drive that process for you, saving administrators time while boosting morale and results.
Whether we're talking internal training or direct sales learning, LXPs are modern marvels – helping hands for a more stable, more educated workforce.
Just a note, LXPs are sometimes referred to as LMSs – learning management software or systems. The more correct term, however, is LXP. These platforms use data, automation, and integrations to engage workforces and shape their behavior.
You might be familiar with G2, a top ratings site for technology. If not, we suggest you check it out. Below, for your convenience, we've given brief looks into G2's top 18 LXPs for 2022 – a guide for the LXP-curious.
These systems are ranked here by ease-of-use, one of the most important categories for LXP implementation and adoption. After all – learning has to engage people, not turn them off. If a system isn't easy to use, why would your workforce use it?
Best Learning Experience Platforms 2022
1. Continu
Continu is a learning platform designed for today's workplace, built to train employees, customers, and third-parties.
Pros: Easy to use, strong UI
Cons: Some training modules overly long, minor UX issues
2. Auzmor Learn
Auzmor Learn is an LXP that lets you assign courses and track employee progress.
Pros: Customer support, mobile friendly, strong workflow
Cons: Not as gamified as similar products
3. Rallyware
Rallyware is a performance enablement platform that shows the right business activity for the right individual at the right moment, helping you onboard, train, and engage.
Pros: Many integrations, high-quality dashboards, leader in direct sales behavior modification
Cons: Occasional bugs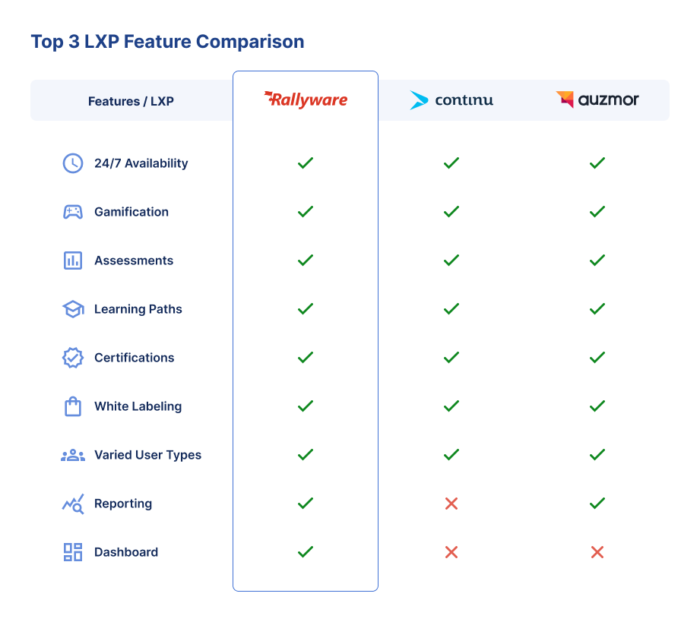 4. Learn Amp
Learn Amp is a people development platform for organizations ranging from large SMEs to enterprises.
Pros: Easy implementation, collaborative approach
Cons: Occasional UX issues
5. 360 Learning
360 Learning helps L&D teams promote learning and train individuals.
Pros: Skills mapping, good support
Cons: UX/UI design gaps
6. Learning Pool Suite
Learning Pool Suite supports learning initiatives for organizations.
Pros: Adaptable solutions, off-the-shelf learning modules
Cons: Could be more proactive in terms of market trends
7. Tovuti LMS
Tovuti LMS provides an all-in-one learning management software for e-learning.
Pros: Easy to create new content, easy interface
Cons: Highly priced compared to similar products
8. EdApp
EdApp is a microlearning LXP built for digital workplace education.
Pros: User friendly, strong support
Cons: Slow analytics, not as configurable as other solutions
9. Knolyx
Knolyx provides e-learning for corporate workplaces.
Pros: Solid UI, gamification
Cons: Not as customizable as other platforms
10. Docebo
Docebo's Learning Suite helps global organizations address learning challenges head-on.
Pros: Intuitive to use, flexible white labeling
Cons: Lacks some features, hiccups in UX
11. Absorb LMS
Absorb LMS enables you to train employees, customers, partners, and other stakeholders.
Pros: Robust functionality, responsible support
Cons: Gaps in reports and dashboards
12. Cornerstone Learning
Cornerstone gives you access to e-learning tools at scale.
Pros: Integrations, well-laid-out UI
Cons: Implementation problems occasionally, options sometimes overwhelming
13. Bridge
Bridge is an employee development platform that combines learning, performance, career development, and other tools.
Pros: Solid performance, 24/7 availability for support
Cons: Lacking some gamification and customization
14. EdCast
EdCast furnishes a cloud-based learning management platform.
Pros: Large content libraries, easy content delivery
Cons: Not as easily usable as other solutions
15. NovoEd
NovoEd's technology builds capabilities in organizations with learning and collaboration tools.
Pros: Seamless UX, flexible content
Cons: Not as many integrations as similar solutions
16. Degreed
Degreed helps organizations with workforce upskilling.
Pros: Good task tracking, clean interface
Cons: Reporting less powerful than other platforms, challenging to alter content
17. OpenSesame
OpenSesame lets you develop higher-performing workforces.
Pros: Robust content, concise courses
Cons: Deficiencies in some content, sometimes too many choices
18. HowNow
HowNow provides a one-stop-shop learning platform.
Pros: Dynamic UX, good integrations
Cons: Difficult to use at times, complex credentialing
While these are the top corporate LXPs, the best choice for your organization depends on your specific needs: who will be using the platform; how much customization and configuration you require; the number of others tools you use; how much gamification should be possible; etc. Overall, attend to these questions as you reach a decision. As a matter of fact, large part of technology decision making is just asking the right questions at the right time.
Feel free to dive into Rallyware's reviews, ratings, and comparisons in more detail on the G2 website. As mentioned in our top 18 LXPs guide, Rallyware triggers personalized learning and business tasks at the exact moment they will be most useful to the individual, and to the enterprise writ large. If you have any unresolved questions about how Rallyware's gamified performance enablement platform serves the learning needs of your enterprise, don't hesitate to reach out and schedule a personalized demo.
News and Insights on Workforce Training & Engagement
We're among top-notch eLearning and business engagement platforms recognized for effective training and talent development, helping to empower distributed workforces
Subscribe