Our customers like Mary Kay, Samsung Electronics, and many other market leaders across a variety of industries and organization types rely on Rallyware to drive their most important initiatives, engage and motivate teams, and unleash their full potential.
Rallyware turns workforce engagement into an efficient, dynamic, social, and fun experience by combining individualized programs, peer-to-peer recognition, real-time feedback, social game-like environment, and predictive analytics. At the same time, with our comprehensive suite of real-time metrics reports and analytics dashboards, corporate leaders can track performance and ROI of every engagement initiative and uncover critical insight into which tactics are most effective at improving workforce engagement.
If achieving your company's objectives requires a group of people to adopt certain behaviors and take a series of tangible offline and online actions, then you need Rallyware!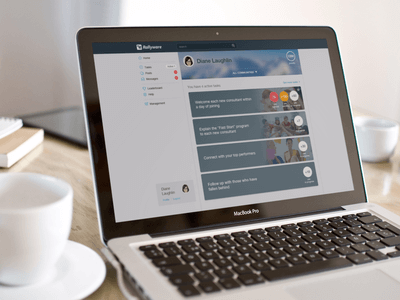 https://www.rallyware.com/wp-content/themes/rallyware_perspective/js/animations/rallyware-process/
Rallyware process:
Getting started with Rallyware is easy. We take ownership of the entire process, and all you need to do is provide us with relevant information and sign off on deliverables. A typical implementation takes 4 weeks and requires ~10 hours of your time.