Engaged brand ambassadors deliver extraordinary value
Whether your ambassadors come from your employees, happy customers, or Facebook fans, ambassadors that are effectively engaged bring your brand marketing efforts to the next level in a more impactful and cost-effective way.
Rallyware for Brand Ambassadorship is a proven world-class solution for any company to effectively transform their fans into engaged ambassadors for the brand.
A groundbreaking solution to engage your brand ambassadors
Rallyware has become the essential go-to engagement platform for companies of any size that want to organize, empower and recognize their brand ambassadors.
With Rallyware, all brands now can:
Easily recruit, develop and nurture their ambassadors in one platform
Continuously energize and motivate your brand ambassadors through social game-like experiences
Drive every segment of their ambassador base to take the right course of action in promoting their brand through customized engagement programs
Reward and recognize your brand ambassadors in a way that matters to them
Monitor and improve engagement through powerful real-time metrics and analytics
Rallyware for Brand Ambassadorship
As a result of implementing Rallyware for Brand Ambassadorship, companies typically see significant increase in traffic to branded content and online interactions, growth in customer leads and sales stemming from those connections:
higher CTR on branded content
BOOSTING ENGAGEMENT THROUGH DELIGHTFUL TECHNOLOGY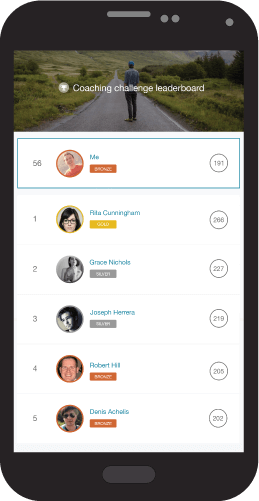 SOCIAL GAME EXPERIENCE
Social game-like experience drives participation
Rallyware allows to connect and strengthen relationships with your brand ambassadors by gathering them in one platform and providing an exclusive experience with your brand.
Social game-like experience inspires your fans to take specific actions that deliver tangible results. From sharing your news to generating their own authentic content about your products or services, to referring friends and organizing offline events to promote your brand, our unique technology makes it rewarding and fun for your fans and followers to keep taking steps towards greater results and to connect with the entire company on a deeper level.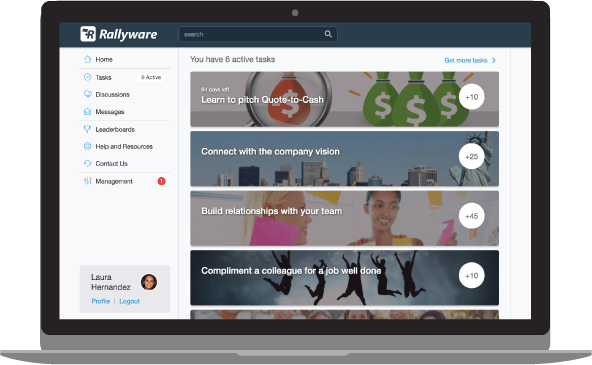 AMBASSADOR ENGAGEMENT PROGRAMS
Engagement programs lead every participant to success
Rallyware comes with a suite of predefined engagement programs that are proven to achieve specific objectives. Engagement programs start with simple tasks and progress to more advanced activities allowing your fans to accumulate quick early wins and grow their skills and confidence to take on more complex tasks that further amplify your marketing efforts.
Your Rallyware account manager will work with you to select, customize, and optimize the set of engagement programs that best achieves your business objectives. We will then continuously monitor performance of your programs and help you introduce refinements and optimizations that maximize the engagement of your entire brand ambassador base.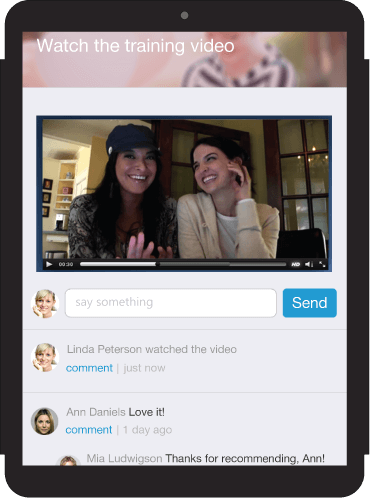 PEER AND TEAM RECOGNITION AND REWARDS
Recognition inspires continuous engagement
Individuals or groups earn points for each activity they complete and engage in peer-to-peer and team competitions based on their accomplishments. When participants achieve significant milestones, Rallyware celebrates their accomplishments with virtual rewards and peer recognition. Every engagement program calibrates point-values, virtual and real rewards in a manner that optimizes participation and maximizes results.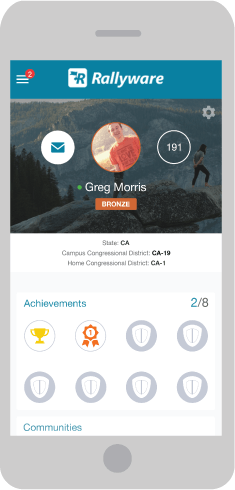 STREAMLINED TEAM COMMUNICATION
Flexible community structure simplifies communication
Rallyware groups your fans into distinct communities to allow efficient communication across all stakeholders. Communities can be structured around specific marketing channels, regions, interests, participant types, etc. Our system administration functionality makes it easy to control communication creation and access, thus ensuring every user receives timely and relevant information.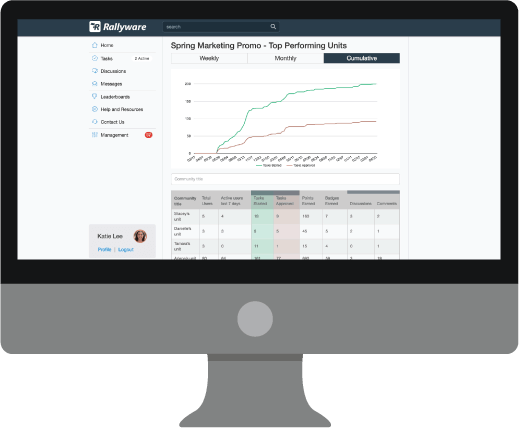 REAL-TIME METRICS AND ANALYTICS
Real-time analytics empower program managers
Our comprehensive suite of real-time reports and dashboards makes it easy to monitor engagement levels and program progress, as well as reveal individuals' interests and behaviors. Corporate leaders can track performance and ROI of every engagement initiative and uncover critical insight into which tactics are most effective at improving their programs' key performance indicators.
https://www.rallyware.com/wp-content/themes/rallyware_perspective/js/animations/rallyware-process/