How Training Empowers Expertise, Compliance, and Sales in Pharma
The pharmaceutical industry continues to face many challenges, both familiar and novel. Companies are heavily regulated by the government and must adhere to several guidelines to ensure the safety and efficacy of their products. Moreover, a lack of proficient and talented employees along with vigorous competition puts companies at risk of falling behind their competitors. For example, pharmaceutical companies have been fined over $13 billion for fraudulent marketing practices, including the promotion of medicines for uses that were not approved by the Food and Drug Administration.
Continuous training can serve as a solution to many problems and help companies produce pharma products under the strictest manufacturing standards to provide care for people and change their lives for the better.
Three key areas to constantly train and develop
L&D professionals, as well as managers, should be fully engaged in developing their employees and helping them meet their professional goals in addition to aligning their interests with specific business objectives. Training should be focused on three main areas to help all employees (chemists, technical personnel, chemical engineers, sales reps, administrators, etc.) grow professionally within a company.
Here are three main areas that L&D professionals should constantly develop in their teams:
1. General skills training
General skills involve industry and job-specific learning courses such as:
Human anatomy and physiology.
This usually includes information on cells and tissues, the functions of different organs, organ systems, and various health conditions.
These courses answer questions like: What diseases or disorders are being treated by the pharmaceutical company where employees work? What are the symptoms of these diseases?
These courses cover questions like: In what way do drugs help to cure a specific disease? What are the indications for drug use? What are the possible side-effects? Also, it can inform learners about pharmacovigilance (or drug safety) that is relevant during pre-marketing as well as post-marketing, through all clinical phases, in order to identify and evaluate previously unreported adverse reactions.
Scott M. Wheelwright, co-founder and principal consultant at Complya Asia, explains how this kind of training can influence a company's culture and employees' accountability:
It was very interesting for me as a freshman engineer to learn the science of the biology and virology that underlay our product development work and how this impacted the patients who used our products. This early connection to patients has benefited me throughout my career as I have focused on bringing products to market in order to relieve suffering among patients. One of the joys of working in the pharmaceutical industry is that many of my colleagues also gain an emotional and spiritual benefit from helping the patients we serve.
Additionally, employees should also be taught essential business skills like negotiation and communication, planning, project management, leadership, time management, adaptability and flexibility, technology skills, critical thinking, among other skills to be able to quickly adapt to future changes in the workplace.
2. Compliance training
Compliance training is more than just a check-the-box activity. If you want your employees to perform their tasks with care and commitment, you should provide systematic, comprehensive, and interactive training. Pharmaceutical companies should train their employees in areas including:
Good Manufacturing Practices (GMP)

to explain production norms according to the Food and Drug Administration and other organizations.

Safety training

to teach all the necessary safety procedures and educate on the precautions to be taken while working with dangerous chemicals or viruses.

Intellectual property rights (IPRs)

to teach the consequences of patent violations and other rights.

Anti-graft rules

to explain the consequences of violating anti-bribery laws (e.g. UK Anti-Bribery law).

Prohibition of off-label marketing

to avoid penalties for the promotion of drugs for curing diseases other than what they are intended for.
3. Sales training
Sales reps in the pharmaceutical industry need to be the real experts in what they sell. They should know how to start an open conversation, how to deal with objections, and how to promote drugs effectively in a very short time without engaging in misconduct or unethical practices. In fact, sales representatives should be able to consistently identify unmet needs and provide recommendations.
Pharmaceutical companies dedicate an average of 62 days to training new sales reps during the first year. Then it drastically declines to about 2 days a year—this is not an effective approach to employee training. To be a successful sales rep, your employees need to improve their knowledge about products, trends, and services on a daily basis.
Jim Trunick, senior director of corporate training and development, believes that "senior reps influence many people and shape the culture of a company." He uses Allergan, a multinational pharmaceutical company, as an example to demonstrate the importance of the training of experienced sales reps:
Allergan offers a one-week, in-house training program for senior salespeople that includes role-playing and other exercises designed to improve skills around negotiations, presentations, and coaching.
Since selling is dynamic and the pharmaceutical industry develops at lightning speed, the need to refresh skills and knowledge is more than important.
How mobile learning helps pharma develop talent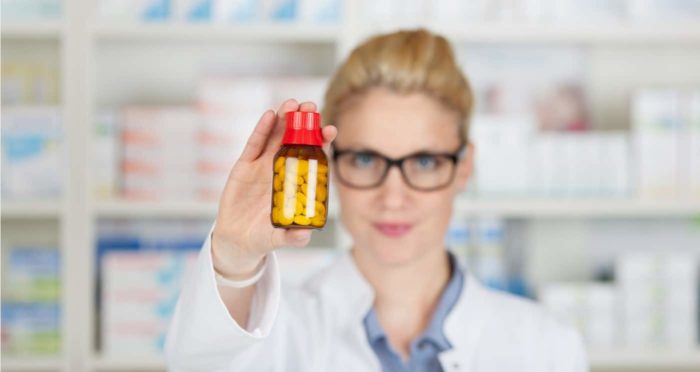 A whopping 81% of pharmaceutical companies train their employees through mobile devices. This number comes as no surprise, as training pharma professionals via a smart, handy platform is beneficial. So, how exactly the eLearning solution can transform and streamline training process?
Knowledge and learning become global, scalable, and accessible
In most cases, pharmaceutical companies are large and have a distributed workforce as they strive to expand their talent pool. Local laws and regulations can make a compliance training delivery more difficult, not to mention different languages, logistical issues, constant information updates, among other issues. Modern LMS platforms allow companies to instantly deliver training to employees regardless of their location, time zone, language, etc. Upon using mobile devices, employees enjoy 24/7 on-the-go access to training materials, learning exactly when they need it.
Employees are getting only relevant training with ongoing updates
One more obvious reason why pharma companies are shifting toward eLearning is that information can be easily updated. This is a must-have for a heavily regulated industry due to changing laws. Moreover, having numerous products to offer, your sales reps should stay up-to-date with new drugs and competing products.
Personalized interface and gamification encourage employee engagement
Ben Locwin, former head of Global R&D Learning and a member of the enterprise learning leadership team for Biogen, emphasizes the meaning of personalized approach when it comes to training:
Our learners are individuals with specific needs, particular business processes, and an innate desire to pursue knowledge–especially in those areas that will help them perform their work better and with greater facility. The worst thing that can be done is to take that interest and engagement and box it in with a dissatisfying cookie-cutter training requirement that, in trying to serve so many different needs, actually doesn't really serve any of them.
The adoption of mobile technology takes personalization to a whole new level. Various content formats (e.g. videos, podcasts, images, texts, tables) powered by gamified elements add customization and interactivity to the learning experience. It also boosts continuous reinforcement of knowledge and adjustment to growing needs for employee development.
Online mode allows to fail, succeed, and compete in a risk-free environment
Gamified elements in corporate training leverage people's innate instincts for competition, instant gratification, feedback, and achievement. All these factors make the learning process more interactive and engaging, improving the retention of information and honing critical skills in a risk-free environment. For example, it's a great way to show employees what to do and what not to do while dealing with chemicals, biohazardous materials, and living cells during drug development.
Learning is becoming social and collaborative
Discussion boards built into a learning platform are great hubs for knowledge sharing and thought exchanges. Positive incentives for completed tasks will promote friendly competition among colleagues to make training more engaging. In addition, learning platforms provide you with real results, showing how training effects performance and business KPIs while developing a culture of continuous learning and growth.
A smart and performance-based learning platform is a great way to boost employees' compliance, competitive skills, and sales productivity as well as develop their professional expertise in the pharmaceutical industry.
Click here for your demo and see how Rallyware helps enterprises with large sales forces cut expenses, drive revenue, and transform operations.
News and Insights on Workforce Training & Engagement
We're among top-notch eLearning and business engagement platforms recognized for effective training and talent development, helping to empower distributed workforces
Subscribe